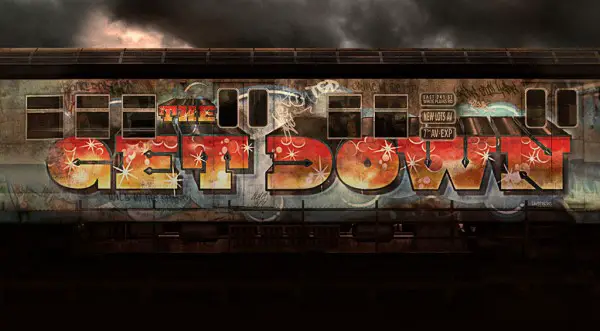 Netflix has launched their new original series The Get Down starring Justice Smith, Shameik Moore, and Herizen F. Guardiola. The musical drama was created by Moulin Rouge!-writer Baz Luhrmann, and takes place in the South Bronx during the late 1970s when a musical revolution was happening.
Season 1 consists of 12 episodes, and each episode can be streamed sequentially (or out of sequence if you're crazy like that), in up to Ultra HD resolution to Netflix subscribers with 4k TVs. Keep in mind Ultra HD requires the Netflix 4 Screen/Ultra HD $11.99 per month plan, and sufficient internet speed.
Luhrmann's series breaks many of the rules of conventional TV shows. First, it's a musical, a genre more associated with two-hour television specials (although Fox's Glee ran for six seasons). Second, the episodes are much longer than what you might find from traditional networks. The premiere episode is 93 minutes long, while the others run about 60 minutes each. Most one-hour TV episodes are much shorter to allow commercial breaks, but since Netflix streams ad-free episode length is only restricted by the editors and creators.
If you love good music, have an affinity for 70's hip hop and culture, or grew up in the Bronx, the series is a must-watch. Luhrmann mixes in more contemporary-sounding ballads with period beats from master DJs and popular music like Donna Summer's "Bad Girls." Among other topics Episode 1 of The Get Down explores the surge of graffiti art in New York City, with newly constructed sets and archival footage that create the environment of a decrepit city that's full of heart.
It was a renaissance period for New York, and even if you're turned off by the thought of watching a musical there is enough drama interlaced with comedy to keep you intrigued. We won't give too much away… moving on to Episode 2 soon as my Hot Pocket is done cooking.
The series is rated M for mature audiences.