X-Men: Apocalypse will release to several disc formats on October 4th, 2016 including DVD, Blu-ray, Blu-ray 3D, and Ultra HD Blu-ray. Along with the common editions detailed here, Best Buy and Target will have their own exclusive editions in partnership with the film's home media distributor 20th Century Fox.
In addition to bonus features such as deleted/extended scenes and audio commentary, all of the editions mentioned above (including the DVD), also provide a code to redeem a Digital HD copy of X-Men: Apocalypse.
The Blu-ray discs all feature English DTS-HD Master Audio 7.1, as well as Dolby Digital 5.1 in English, French and Spanish soundtracks. The 4k Ultra HD Blu-ray edition of X-Men: Apocalypse features the soundtrack in Dolby Atmos, an extension of Dolby TrueHD 7.1 that makes audio more immersive.
Here's a look at exclusive Blu-ray editions of X-Men: Apocalypse.
X-Men: Apocalypse Best Buy Exclusive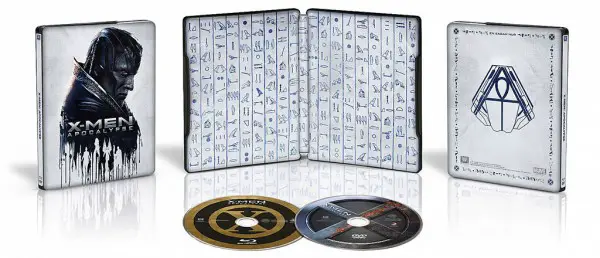 Best Buy's edition of X-Men: Apocalypse will feature special SteelBook packaging like most of their other exclusives, this time with an image of Marvel character Apocalypse overshadowing silhouettes of the X-Men team. And, the inside and back of the SteelBook package is nicely patterned with Egyptian hieroglyphs. Bonus features include audio commentary, deleted/extended scenes, a wrap-up party video, gag reel, and the hour-long documentary "X-Men: Apocalypse Unearthed." Price: $24.99
X-Men: Apocalypse Target Exclusive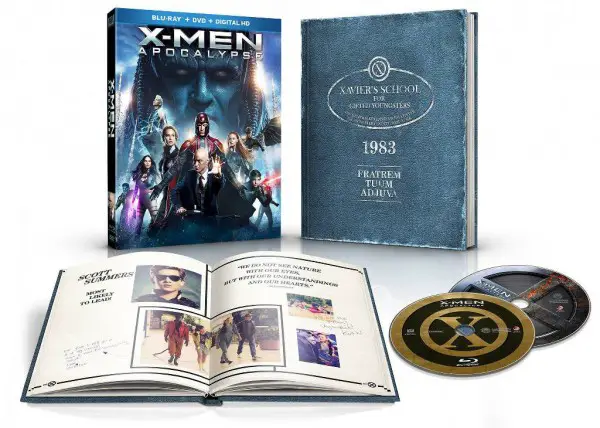 Target will release a 2-disc edition of X-Men: Apocalypse with Blu-ray, DVD, Digital HD copy all packaged in a special "1983 Xavier's School for Gifted Youngsters Yearbook" booklet. The edition also includes deleted and extended scenes, audio commentary, wrap-up party video, gag reel, and the hour-long documentary "X-Men: Apocalypse Unearthed." Price: $22.99