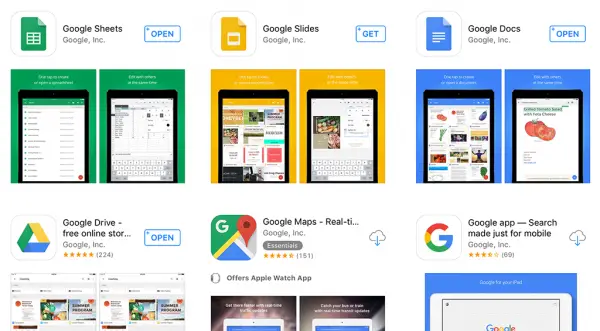 One of the frustrating things when working with Google Apps such as Docs, Sheets and Slides has been the inability to jump from app to app without double-tapping the home button and selecting the app from the carousel. In other words, there was no way to view two apps from the Google production suite at the same time. This might be fine for some tablet applications, but with Google's production suite working side-by-side is almost a must.
Google's latest update to Docs, Sheets and Slides has changed this, and now allows Split View and Slide Over multitasking. The split-view can be worked with in two equally-sized windows, or with one window in a smaller, PIP type of layout.
To start using split-screen first update the Google Docs, Sheets and Slides apps. Then, once within the app, slide from the right side of the screen to open the slide over bar. The Google apps probably won't be showing yet (because earlier versions didn't allow it), so users then need to choose the app that shows up in the slide over. This can be done by thumbing down on the large dash or "gripper" at the top of the slide over (see image below), then choosing that app.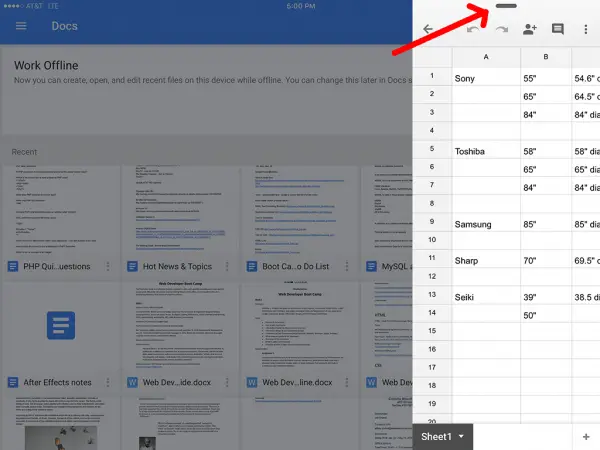 Split-screen multi-tasking was introduced about a year for Apple iPads running iOS9 including iPad mini 2, iPad mini 3, iPad Air, and iPad Air 2. However, fullscreen side-by-side viewing is only supported on iPad Air 2.
The app update for Google Docs also includes the ability to insert images and insert page breaks. And, all apps have addressed existing bugs and have been optimized for improvements in performance.