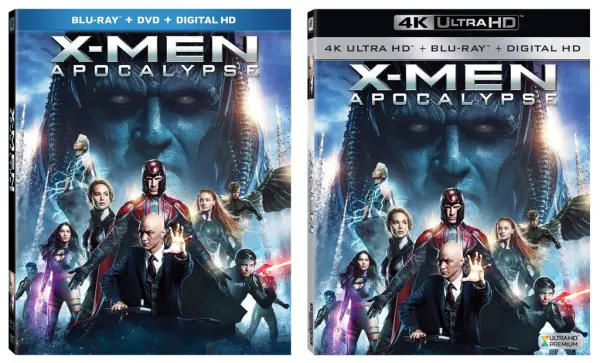 20th Century Fox will release X-Men: Apocalypse to Blu-ray, Blu-ray 3D, and Ultra HD Blu-ray on October 4th, 2016. Produced and directed by Bryan Singer, 'Apocalypse' is the ninth film in the X-Men film franchise and the first to be released to Ultra HD day-and-date with conventional disc formats.
X-Men: Apocalypse will be available in several different disc formats upon release, as well as exclusive editions from Best Buy and Target (we'll get you more details when we have them). But among the four common editions are a 2-disc Blu-ray, 2-disc Blu-ray 3D, 2-disc Ultra HD Blu-ray, and single-disc DVD, currently priced at $19,99, $24.99, $29.99, and $14.99, respectively.
All of the editions mentioned above, including the DVD, also provide a code to redeem a Digital HD copy of 'Apocalypse' (yes, even the DVD packaging shows a bonus Digital HD copy).
The high-definition Blu-ray discs all feature English DTS-HD Master Audio 7.1, as well as Dolby Digital 5.1 in English, French and Spanish soundtracks. The 4k Ultra HD Blu-ray edition of X-Men: Apocalypse boasts a soundtrack in the immersive Dolby Atmos audio format, backed up by Dolby TrueHD 7.1 for audio systems that don't support it.
Video resolutions are either 1080p (Blu-ray, Blu-ray 3D) or 2160p (Ultra HD Blu-ray). And, the film's aspect ratio on all Blu-ray editions is 2.40:1.
Bonus Features:
Disc 1: Theatrical Feature Blu-ray
**Deleted/Extended Scenes with Optional Introductions by Bryan Singer
**Gag Reel
**Wrap Party Video
**Hour long documentary, X-Men: Apocalypse Unearthed
**Audio Commentary by Bryan Singer and Simon Kinberg
**Concept Art and Photo Gallery
Disc 2: Theatrical Feature DVD
Digital HD