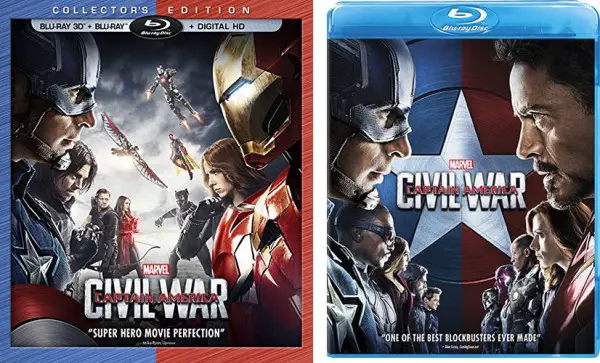 Walt Disney Studios has revealed the release date for Marvel's Captain America: Civil War on Blu-ray, Blu-ray 3D, and DVD. The blockbuster film in disc format will hit stores on Tuesday, September 13th, although most likely preceded by an early digital-only release on September 2nd.
There will be two common Blu-ray Disc releases: a single-disc edition and two-disc Collector's Edition with Blu-ray and Blu-ray 3D formats — both of which come with extra bonus material and a digital copy. The DVD will be available in a single-disc edition.
Bonus features on the Blu-ray editions include several production featurrettes, an exclusive sneak peak at Doctor Strange, gag reel, extended and deleted scenes.
Pre-orders of the Blu-ray 3D Collector's Edition are selling for $27.99 from Amazon and Best Buy, while the Blu-ray single editions are selling for $22.99 and DVDs for $19.99. Best Buy has listed a Steelbook Blu-ray edition with special packaging that's selling for $29.99.
Captain America: Civil War Special Features:
UNITED WE STAND, DIVIDED WE FALL — THE MAKING OF CAPTAIN AMERICA: CIVIL WAR — PART 1 & PART 2 — From skinny volunteer to backbone of Earth's Mightiest Heroes, chart Captain America's journey through every decisive moment in the Marvel Cinematic Universe in this complete behind-the-scenes look at a landmark in the Marvel saga
CAPTAIN AMERICA: THE ROAD TO CIVIL WAR — Explore the First Avenger's fascinating evolution from loyal soldier to seasoned, conflicted hero who questions authority
IRON MAN: THE ROAD TO CIVIL WAR — Tony Stark's path has been no less epic or transformative than that of his friend and ally, Steve Rogers
OPEN YOUR MIND: MARVEL'S DOCTOR STRANGE — EXCLUSIVE SNEAK PEEK — Go behind and beyond the scenes as Doctor Strange makes his journey to the big screen
AUDIO COMMENTARY — With Directors Anthony and Joe Russo and the screenwriters
GAG REEL
DELETED & EXTENDED SCENES