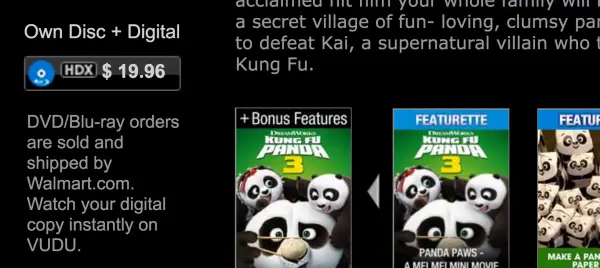 If you purchase movies from Vudu.com you may have noticed a new option that allows you to buy the digital version of a film and get a disc in the mail afterwards. For example, through Vudu.com (pictured above) the new DreamWorks release Kung Fu Panda 3 can be purchased early in Digital HDX for $19.96, and the Blu-ray Disc edition will be shipped by Walmart when it releases on June 28th.
Seeing that Kung Fu Panda 3 sells for $14.99 in Digital HD as a standalone product, that would mean a Blu-ray Disc copy will only cost an extra $5. Vudu apparently offers this deal for SD digital purchases as well, in which case a DVD would be mailed instead of a Blu-ray Disc.
We assume the mailed Blu-ray Disc copy will be the common Blu-ray/DVD/Digital combo pack, but we can't be sure since Vudu doesn't indicate details on the edition that will be shipped.
The new digital and disc combo is not available for all titles, in fact, Kung Fu Panda 3 is the only title we could find that offered the deal.
It should also be noted that according to Vudu's recently updated terms and conditions once an order is confirmed it cannot be "cancelled or changed." However, it appears returns may be available under certain circumstances. Vudu says if the digital copy has not been watched yet (any portion of it), or the physical disc package opened, customers can get a refund on the order.
The new option doesn't appear to be available when purchasing Blu-ray Discs through Walmart.com.