The Nvidia Shield Android TV released in May 2015, and there are plenty of reviews that talk about the device's capabilities in terms of being a gaming console and set-top box. But at the time it was released there wasn't much 4k content out there, and even though the Shield beat Roku and Amazon Fire TV in supporting 4k, content wasn't widespread enough to give the Shield the recognition it deserved.
Fast-forward one year and Netflix has grown a sizable library of Ultra HD programming to watch, and both Amazon and Vudu have a growing list of titles in UHD (we only wish they would play nice with Android). And, since Google Play doesn't offer any content in 4k yet that leaves Netflix and YouTube as the primary sources of 4k content through the Shield TV. If viewing your own content, the Shield TV will support 4k through apps like Plex and KODI.
We also want to consider if (and how) Nvidia's Shield TV handles HDR. Since the new video specification requires HDMI 2.0a (therefore allowing a layer of metadata used to define the HDR content) we can't really test out HDR (HDR10 or Dolby Vision) through the Shield TV. This holds true for other 4k-supporting media players like Fire TV and Roku 4: without an HDMI upgrade the only way to experience HDR is directly through an internet-connected native app.
A Quick Intro
The Shield Android TV has got to be the most stylish of all the streaming media players, with sharp angles and a thin profile the device looks a bit like an enemy ship from a Star Trek movie. But the Shield TV doesn't just look impressive. The device packs a powerful punch with a Tegra X1 processor with 256-core Maxwell GPU (rated faster than a PS3 or Xbox 360), 3GB RAM, 16GB or 300GB storage installed, and built-in support for Google Cast.
Connectivity features include HDMI 2.0 with HDCP 2.2 for 4K video at 60fps, Micro-USB 2.0, Gigabit Ethernet, and expandable storage via a MicroSD slot and two USB 3.0 (Type A) ports. The operating system is Android 6.0 (Marshmallow) powered by Android TV and Google Cast.
As a gaming console the Shield has a lot of potential. The device will already play premium Android games such as Knights of the Old Republic, and Metal Gear Rising: Revengeance, as well as indie and family-genre games. And, the platform's GeForce NOW streaming gaming service lets users play a library of games from the cloud without having to install them, with support for 1080p resolution and 60fps. But let's put Shield TV's gaming capabilities aside for this article and look at video and audio.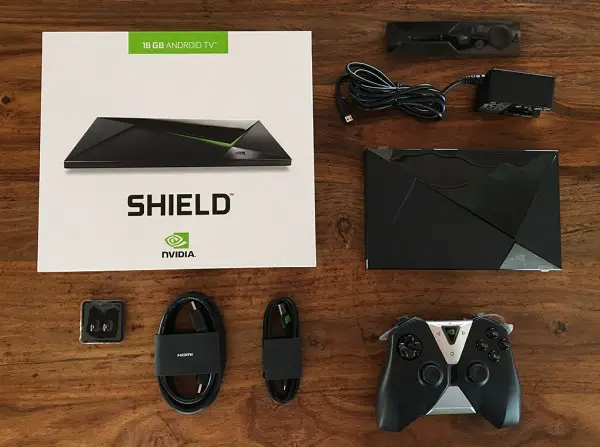 Starting Up
If you just purchased a Shield Android TV upon startup you'll be asked to upgrade Shield Experience to Version 3.1. The update was just released on April 18 and includes optimizations for new games, including mouse navigation using the SHIELD controller's right stick. Also, the update adds Marshmallow functionality and stability improvements such as external USB drive detection, FTP write access, HDMI-CEC, idle/sleep stability, SD card formatting, mouse support, and other features.
We tested the Shield Android TV connected to a 65″ Samsung 8500 Series SUHD TV with a premium AudioQuest HDMI cable. Some guys argue any old HDMI cable will do for 4k, but when you're trying to maximize quality why take the chance with a $10 cable from CVS? As far as bandwidth, we're getting a solid 30Mbps which should be plenty of internet juice to support streaming 4k. On this particular set, Samsung Peak illuminator Pro indicates HDR support.
Interface
The Shield Android TV software interface is just as slick as any other media player, and responds quickly and smoothly to remote commands including voice control. During a week's testing we didn't experience one hiccup when navigating through the portal. Apps can be viewed through the sliding rows or searched for using text or voice commands.
One thing you should know about Nvidia's Shield TV is that uses Google Play for app installation. This is unlike Apple TV and Roku where there is a seamless integration of a store. Meaning, with Apple TV and Roku you can click on an app and install directly through the Apple iTunes or Roku Store. Shield TV requires installation through Google Play (and of course a Google account) and this might not be clear upon startup. Once you figure this out, however, it makes complete sense and super easy to set up apps through either the Nvidia website or Google Play (which becomes an easy place to manage the apps).

One thing to point out is that it's not exactly intuitive where to find all the apps Nvidia Shield TV supports. And, some apps are not compatible with Nvidia Shield. For example, we tried to install Hulu from Google Play but it said the app was not compatible (although it's compatible with the Shield portable and tablet devices). When browsing through apps on the Shield website, icons on the right side indicate whether compatible with Shield TV, Shield Tablet K1, or Shield Portable.
Remote Controls
The remote that comes with the Nvidia Shield TV is really small, slick and lightweight (somewhat like the 1st-generation Apple TV remote), but seems to be lacking a button that would allow a user to pause and resume video. The gaming remote does a lot more though, and functions a lot like an Xbox controller. We found many of the buttons on the game controller perform the same functions, but it's always better to have more options than less.
4k Video Quality
Shield TV supports up to 4k video at 60 frames-per-second in VP9, H265, and H264 codecs. The device connects to TVs via HMDI 2.0 and internet through a gigabit Enternet port. We strongly suggest hard-wiring internet over Wi-Fi whenever possible.
The first Ultra HD content we looked at through Shield TV was Marvel's Daredevil Season 2. Digital video is known to start in poor quality, but his wasn't the case with the pre-installed Netflix app that didn't seem to miss a pixel from the first frame. This is impressive considering 4k video is a bandwidth hog.
Then we compared Nvidia's delivery of 'Daredevil' to video streamed directly from the native Netflix app for Samsung TVs. There didn't seem to be any improvement or change in quality. Each video stream looked equally rich in color and sharpness, and neither suffered from network interruptions or dropouts.
We also took a look at some 4k video from YouTube, the majority of which is short-form content. Nevertheless, the clips are a great way to view the resolution, color, and contrast capabilities of any given TV. The easiest way to set up 4k videos from YouTube is to add them to a playlist using a PC, then access the Library within the YouTube app on the Shield.
Audio Support
The Shield TV supports up to Dolby 7.1 surround sound pass-through HDMI, including DTS-HD and Dolby TrueHD 7.1. Currently, next-gen formats such as Dolby Atmos and DTS:X don't appear to be supported, although this may be a future upgrade. We also love that the Shield TV supports headphone jacks on the remote and game controller for private listening (by the way, the remote has the headphone jack on the bottom).
Support for HDR?
The big question about most streaming media players (and 4k TVs alike), is whether or not there is support for HDR. This is something manufacturers are hesitant to talk about given the uncertainty of what High Dynamic Range spec (if any) will end up the standard for video. The two most popular HDR specs for video are currently HDR10 and Dolby Vision, but support is not consistent across TVs, video delivery services, and content creators. Given the state of HDR, Shield makers won't say which format, if one has to be chosen, will be supported. It should be noted, however, that a firmware update could add HDR capability to Shield TV as well as Fire TV and Roku 4. We only hope for cross-compatibility with both HDR specs.
Hidden Goodies
One of the hidden secrets of the Shield TV can be found in the HDMI Settings. By choosing HDMI-CEC users can initiate CEC one touch play, a way to turn on your TV and have it automatically set the correct source. This alleviates the sometimes painful process of selecting the correct source through the TV remote control. CEC can also control some audio devices, but only certain TVs and receivers support it.
Time to Buy?
Is it a good time to buy a Nvidia Shield Android TV? If you plan on using the gaming functionalities of the Shield TV it's a great time to buy, mainly considering the company is offering a free second game controller with the purchase of either the 16GB ($199.99) Shield TV or 500GB ($299.99) "Pro" model.