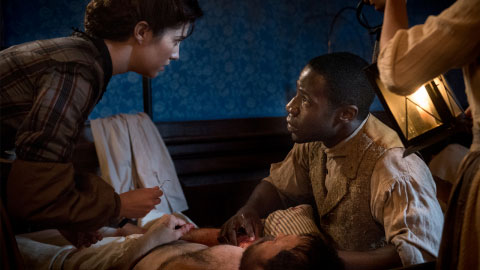 PBS has given the greenlight to produce a second season of their original drama Mercy Street. The show centers on Alexandria, VA during the Civil War period and stars McKinley Belcher III, Mary Elizabeth Winstead, and Suzanne Bertish among a large ensemble cast.
The second season will pick up where the first season left off, further exploring the relationships between the characters living within the chaos of Alexandria — a microcosm of the events taking place in what was a divided country.
The new episodes will include the historical Battle of Antietam and Seven Days' Battle, bringing viewers "closer to the fight and into the halls of Confederate power."
"We are thrilled with the overwhelmingly positive response to Mercy Street and the return of high-quality American drama on PBS stations," said Beth Hoppe of PBS.
The first season of Mercy Street was executive-produced by Ridley Scott, David W. Zucker, Lisa Q. Wolfinger, and David Zabel. The premiere of Mercy Street drew a a 3.85 rating (Nielsen Live + 7) and reached 5.7 million viewers.
"It has been a privilege for all of us on Mercy Street to be able to tell these stories at the intersection of drama and history, and we are thrilled to have the opportunity to build on what we've already done," said co-creator and executive producer David Zabel.
PBS says the six episodes of the first season were streamed 2 million times between January 14 and February 28 across all platforms.
PBS is available to stream on PBS.org and through free PBS apps for iOS, Android, FireTV, ROKU, Apple TV, Xbox 360 and Windows 10.