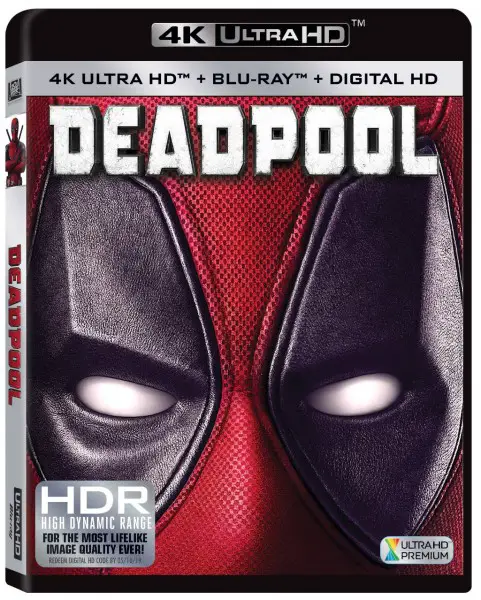 The anti-superhero film Deadpool will be available on Ultra HD Blu-ray when the film releases to home media formats including conventional Blu-ray, DVD, and On-Demand. And although 20th Century Fox hasn't revealed an exact release date for the disc and digital formats (only Spring 2016), the film is available to pre-order on UHD BD, BD, and DVD. [Update: Release date is May 10, 2016.]
The mockup of the Ultra HD Blu-ray packaging package art also indicates the video will be coded with HDR specs, allowing for high-dynamic range contrast and color. Keep in mind most 4k TVs presently on the market don't support HDR — still an emerging image spec that supports 10-bit color.
Deadpool on Blu-ray is selling for $22.99 (MSRP $39.99) at Best Buy and Amazon, while the 2-disc 4K Ultra HD Blu-ray edition is selling for $29.99 (MSRP $39.99).
Other new movie titles releasing to Ultra HD Blu-ray day-and-date with Blu-ray, DVD and On-Demand include The Revenant, Concussion, and The Peanuts Movie.
Read more Ultra HD Blu-ray announcements.