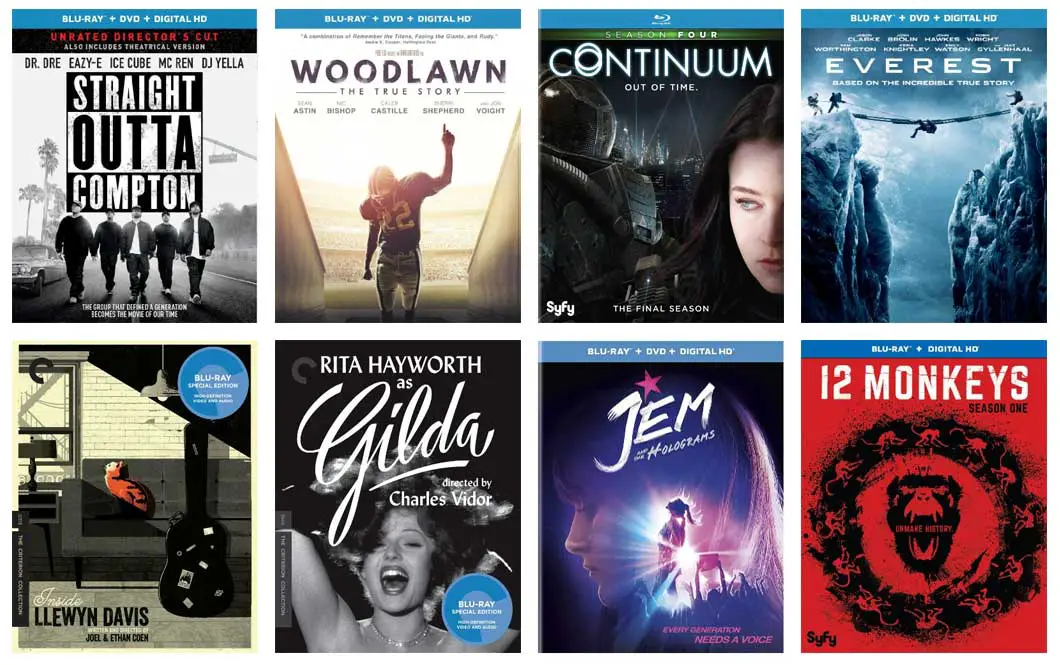 It's our weekly picks of the top Blu-ray discs for the week!
Straight Outta Compton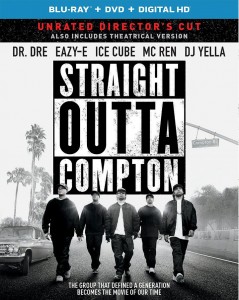 Snubbed out of an Oscar nomination but not at the box office, Universal Pictures' Straight Outta Compton is now available on Blu-ray in a 2-disc edition that also includes a Director's Cut with an additional 20 minutes of film not seen in theaters. The Blu-ray edition features exclusive material such as deleted scenes, featurette "Becoming N.W.A." and a deleted song performance. And, both the BD and DVD come with five additional bonuses as well as commentary from Director/Producer F. Gary Gray. The Blu-ray is formatted in 2.40:1 aspect ratio with DTS-HD Master Audio 5.1 soundtrack. A DVD and Digital HD copy with UltraViolet or iTunes is also included in the combo. Price: $19.99
Everest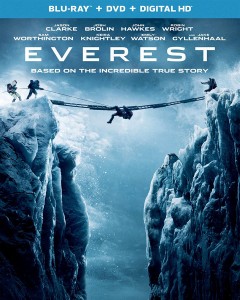 If Avatar wasn't reason enough to buy a 3D TV, Everest should be. The epic film from Universal Pictures releases to Blu-ray 3D and Blu-ray this week in 3-disc and 2-disc editions, respectively. The Blu-ray combos include a DVD and Digital HD copy redeemable with UltraViolet or iTunes, and the exclusive bonus featurettes "Learning to Climb: The Actor's Journey" and "A Mountain of Work: Recreating Everest." Two additional featurettes are included on the Blu-ray and DVD releases of Everest, along with feature commentary from Director Baltasar Kormákur. The Blu-ray discs are formatted in 2.40:1 aspect ratio with Dolby Atmos True HD audio soundtrack. Price: $19.99 (2D) $22.99 (3D)
Woodlawn
Woodlawn is based on the true story of talented high school football player Tony Nathan (played by Caleb Castille) who was faced with racial tensions in the early 70's. The Blu-ray release includes over 1 hour of bonus features such as behind the scenes material, filmmaker commentaries, production diaries, and deleted scenes. The Blu-ray combo edition from (yet another from Universal Pictures this week) also includes copies of Woodlawn on DVD and Digital HD with either UltraViolet or iTunes. The Blu-ray is formatted in 2.40:1 aspect ratio with DTS-HD Master Audio 5.1 soundtrack. Price: $19.99
Other mentionables this week include the first season of 12 Monkeys, the fourth and last season of Continuum, the digitally restored classic Gilda (1946) from Criterion Collection, Jem and the Holograms (girls love this film), and Inside Llewyn Davis also from Criterion Collection.
New on Blu-ray Disc, January 18, 2016
TV Shows
Continuum: Season 4
12 Monkeys: Season 1
Movies
Straight Outta Compton
Everest (Blu-ray 3D, Blu-ray)
Inside Llewyn Davis – Criterion Collection
Woodlawn
Jem and the Holograms
The Diary of a Teenage Girl
American Gigolo (1980)
The Pretty Peaches Trilogy
The Condemned 2
The Guardian (1990)
Of Mice & Men (1992)
Gilda (1946)
Undesirable (1915)
Christmas Eve (1947)
Serial (1980)
Documentaries
All Things Must Pass: The Rise and Fall of Tower Records
Let There Be Light: John Huston's Wartime
Animation
Certain Scientific Railgun S: Season 2
Samurai Pizza Cats Complete Series
Terror in Resonance: Complete Series
Hanayamata
Locodol