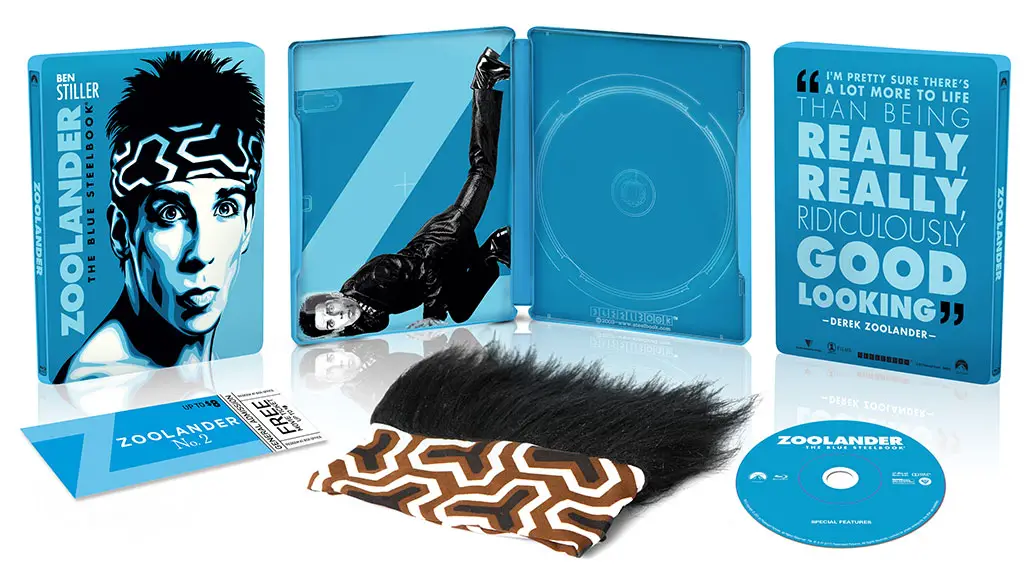 To promote the release of Zoolander 2 to theaters in early 2016, Paramount Home Media has produced the Zoolander Limited Edition Blu-ray Gift Set exclusively for Walmart stores. The gift set will release on December 1st and include a sneak peak at the sequel as well as $8 worth of Movie Money towards a ticket for the film.
The Limited Edition features an original design in a signature "Blue SteelBook" packaging, collectible Zoolander headband, and new bonus material including "Breakdance Fight Rehearsal" and "Alternate Brainwashing Sequence Storyboards."
Zoolander on Blu-ray is presented in 1080p with English 5.1 DTS-HD Master Audio, French 5.1 Dolby Digital, Spanish 5.1 Dolby Digital and Portuguese 5.1 Dolby Digital with English, English SDH, French, Spanish and Portuguese subtitles.
ZOOLANDER Limited Edition Blu-ray Gift Set features:
Feature film in high definition
Commentary by Ben Stiller and writers Drake Sather & John Hamburg
A Really, Really, Really Cool Teaser for Zoolander No. 2
Breakdance Fight Rehearsal—NEW!
Alternate Brainwashing Sequence Storyboards—NEW!
Walkoff Rehearsal Footage with Ben Stiller commentary
Deleted Scenes with Ben Stiller commentary
Extended Scenes with Ben Stiller commentary
Outtakes
VH1 Fashion Awards Skits
Music Video "Start the Commotion" by The Wiseguys
Public Service Announcements
MTV Cribs
Interstitials
Photo Galleries