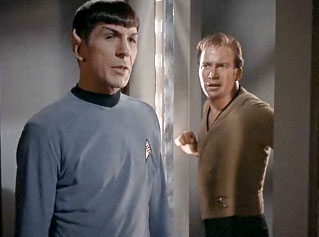 CBS has announced a new Star Trek television series will launch in the year 2017,  and will be "shown primarily" on the network's CBS All Access streaming service.
The internet-delivered CBS All Access launched in late 2014 [Editor: incorrect launch date revised], and offers access to CBS programming and on demand content for $5.99 per month (no long term contracts required).
CBS said the new series will be introduced on its traditional broadcast network with a "special preview" that would then continue on the subscription service.
"This new series will premiere to the national CBS audience, then boldly go where no first-run 'Star Trek' series has gone before – directly to its millions of fans through CBS All Access," said Marc DeBevoise, Executive Vice President/General Manager – CBS Digital Media.
Alex Kurtzman, known for the films Star Trek (2009), Transformers (2007), and Amazing Spider-Man 2, will be executive producer of the new series.
CBS didn't give any indications about what the new Star Trek series would be called, but did say it would introduce "new characters seeking imaginative new worlds and new civilizations, while exploring the dramatic contemporary themes that have been a signature of the franchise since its inception in 1966."
Star Trek was created by Gene Roddenberry. The original series ran for three seasons from 1966 through 1969.  The show has had several spinoffs including Star Trek: The Next Generation (1987–1994), Star Trek: Deep Space Nine (1993–1999), and the franchise's last series Star Trek: Enterprise (2001–2005).
CBS All Access offers subscribers over 7,500 episodes from the current television season, previous seasons and classic shows on demand nationwide, as well as the ability to stream local CBS stations live in more than 110 markets.
Source: CBS Press Release via NYTimes