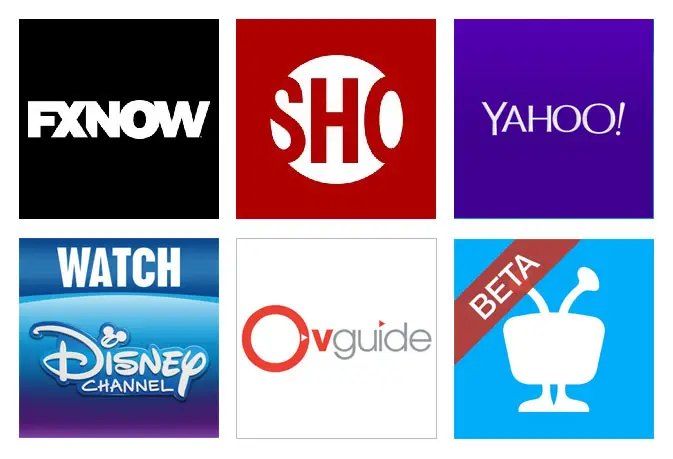 Here's a look at the latest app channels for Amazon's Fire TV streaming media player. The apps are available to download free from the Amazon app store, but some require a subscription to the channel either through a TV service provider or through the app itself. Of course, Amazon has many more apps to choose from on the platform, including games, reference, and health and fitness apps among others. But we're just focusing on video entertainment apps for this article.
FXNow
FXNow is a free app channel that includes content from 3 networks: FX, FXX and FXM. Programming includes dramas, comedies and blockbuster movies such as American Horror Story, Fargo, The Strain, and Tyrant. Through the app channel, viewers can also get access to every Simpsons episode aired. Supporting TV service providers include DirecTV, Bright House Networks, Charter, Cox, Cablevision Optimum, Verizon FiOS and others.
Showtime
Showtime's over-the-top (OTT) app SHOWTIME is now available for Fire TV and costs $10.99 per month to subscribe. But don't confuse this app with Showtime Anytime, the app that requires a subscription through a TV provider. SHOWTIME only requires broadband internet, and subscribers need only pay on a month-to-month basis.
Yahoo
The free Yahoo app for Android devices streams Saturday Night Live skits, Live Nation concerts, music videos, and in-game highlights from the MLB. The app also gives users access to the new season of Community, And, on October 25, the NFL football game between the Buffalo Bills and Jacksonville Jaguars will stream live from London for free on Yahoo for Fire TV.
Disney Movies Anywhere
Disney Movies Anywhere for Amazon Fire TV was launched about a month ago, and provides access to select Disney, Disney•Pixar, Marvel, and Star Wars movies anywhere a customer has a Fire TV player or Fire TV stick. Disney is still offering a free copy of Monsters, Inc to new customers who sign up for the service.
OVGuide
OVGuide lets users watch full length movies free with no subscription through Amazon Fire TV or Fire TV Stick devices. Movies can be filtered by genre such as comedy, horror, romance, sports, and action, with titles such as Spilt Milk, Nosferatu, and The Drunk. The app requires Android 2.3.3 or higher.
TiVo for Amazon Fire TV (Beta)
TiVo customers with a TiVo BOLT, TiVo Roamio Plus/Pro, or TiVo Stream can watch recorded shows through the new TiVo App for Amazon Fire TV and Fire TV Stick. The app, when downloaded to Fire TV, can replace traditional set-top boxes and can be used while away from home. Unfortunately, live TV is not supported, and, streaming out-of-home is not supported for TiVo BOLT.