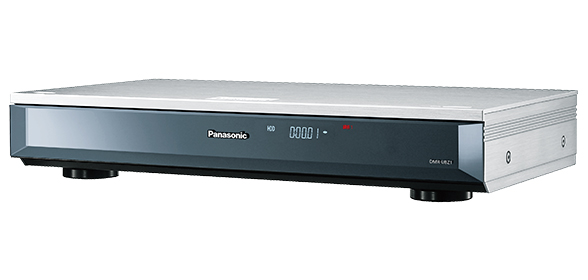 The first Ultra HD Blu-ray player will go on sale in Japan starting November 13th, announced as the player was displayed at the Ceatec electronics show this week. The Panasonic DMR-UBZ1 will be able to play movies on Ultra HD Blu-ray Discs when studios begin releasing them, as the specs for the next-gen format were completed last summer.
The Panasonic DMR-UBZ1 includes support for HDR (High Dynamic Range) content, and of course 4k video at 60p, but also features a 3TB hard-disk drive intended for recording Japanese terrestrial and satellite TV programs. Supported video codecs include HEVC (H.265)and conventional Blu-ray disc formats (MPEG-4 and AVC (H.264).
Other features include wide color gamut standard BT.2020, brightness from 1,000 ~ 10,000 NIT, and new 4K realistic chroma processor plus engine.
As far as design, the DMR-UBZ1 is a bit bigger than today's Blu-ray players — maybe resembling first-generation BD players in terms of weight and girth. The player measures 438mm (17.2″) x 77mm (3″) x 239mm (9.4″) and weighs 8.2kg (18lbs).
The DMR-UBZ1 Ultra HD Blu-ray player will cost about 400,000 yen (US$3,327), and Panasonic plans to produce 500 units per month.
HDMI cables from Panasonic were also on view at Ceatec, and will be able to transmit 4k/60p video at up to 18Gbps.