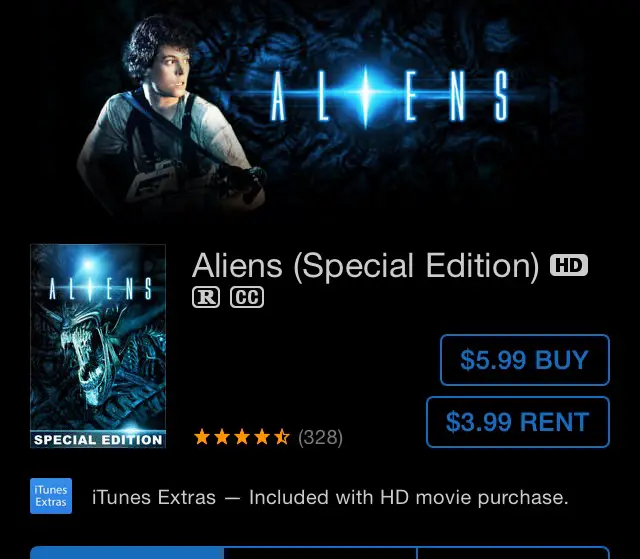 The Special Edition of the 1986 sci-fi blockbuster Aliens is available in Digital HD for $5.99 today only from iTunes. With a total run time of 2 hours and 34 minutes, the edition features a custom introduction from Director James Cameron.
Aliens (Special Edition) on iTunes is typically $14.99 on iTunes, and includes iTunes Extras with over 3 hours of bonus content including the original treatment from Cameron with search functionality. By the way, only the Special Edition is on sale — the regular version is still priced at $14.99.
The Full HD 1080p file from iTunes is a 6.86GB download, while the smaller 720p version can be streamed or downloaded.
Keep in mind iTunes is running on Eastern Time, so Midnight ET is when the deal expires.
Digital HD copies of Aliens weren't available when the Aliens Anthology Blu-ray released in 2010, although UV copies were included with the 2014 re-release of Aliens to Blu-ray disc with two cuts of the film.
From 20th Century Fox:
"The terror continues as Ripley (Sigourney Weaver) returns to Earth after drifting through space in hypersleep for 57 years. Although her story about the Alien encounter is met with skepticism, she agrees to accompany a team of high-teach marine's back to LV-246…and this time it's war!"