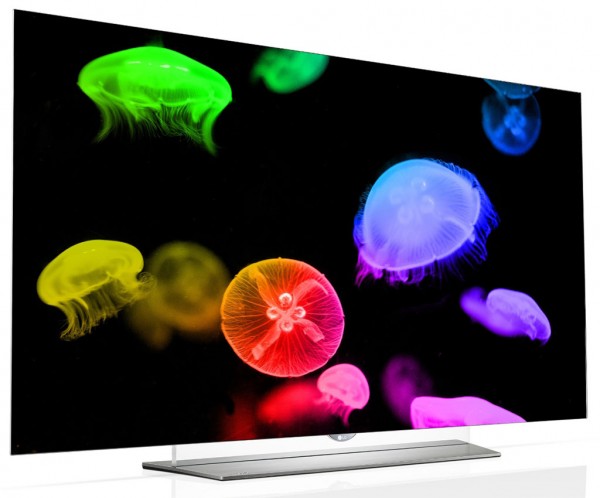 LG introduced several 4k OLED TVs at CES in January, including models from the EC9300 and EG9600 series of curved displays. Now, the company has revealed pricing and availability of its new EF9500 series of OLED 4k TVs, the first flat screens in their lineup of consumer OLED TVs.
The new models will include the webOS Smart TV platform, built-in premium speaker systems designed by harman/kardon, and support video resolution up to 4k Ultra HD (3840×2160).
The LG EF9500 series are also HDR-capable, allowing HDR (High-Dynamic-Range) content from external devices and streaming services that deliver the format.
(As a note, LG's EG9600 Curved OLED 4K TV series will be eligible for a firmware update very soon that will support HDR.)
"OLED TV is not just a new TV – it's an entirely new category of television that delivers what experts and consumers alike are hailing as the best picture ever," said William Cho, President and CEO, LG Electronics USA."
OLEDs are known for having vibrant colors and almost infinite contrast ratios, and LG boasts their OLED black levels can be 200 times deeper than conventional LCD panels.
LG has done something interesting with the pricing of the new 55-inch and 65-inch flat OLED TVs. The MSRPs are set exactly the same as the curved EG9600 series displays, giving customers the option of curved or flat OLED displays for the same price.
In effect, the EF9500 55-inch model carries an MSRP of $5,499, while the 65-inch model will list for $6,999.
The new models from the EF9500 series will begin shipping to retailers in September.
LG's 2015 OLED TVs Suggested Retail Pricing:
EF9500 – OLED 4K TV

65-inch class (64.5 inches diagonal) model 65EF9500:

$6

,999
55-inch class (54.6 inches diagonal) model 55EF9500:

$5

,499
EG9600 – OLED 4K TV

65-inch class (64.5 inches diagonal) model 65EG9600:

$6

,999
55-inch class (54.6 inches diagonal) model 55EG9600:

$5

,499
EG9700 – OLED 4K TV

77-inch class (76.7 inches diagonal) model 77EG9700:

$24

,999
EC9300 Series – Full HD OLED

55-inch class (54.6 inches diagonal) model 55EC9300:

$2

,499