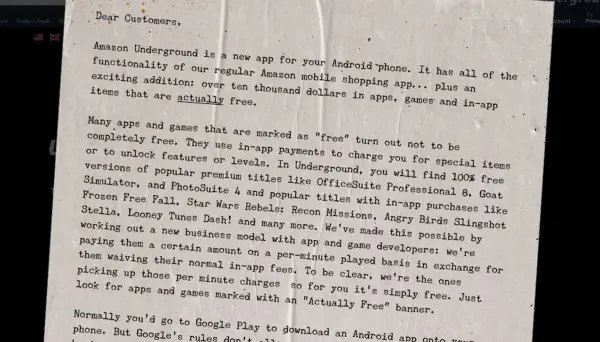 Amazon's "Free App of the Day" is no longer, but instead of disappearing completely it's being replaced by a bigger initiative called Amazon Underground. The new app for Android phones has all the functions of the Amazon shopping app, but with the addition of over $10,000 worth of apps (including games and in-app items) that Amazon says are "actually free."
Amazon describes many apps that say they are free, but actually charge for "special items or to unlock features of levels." Amazon Underground is meant to be completely free, and points to apps such as OfficeSuite Professional 8, Goat Simulator, and PhotoSuite 4 as examples of 100% free apps.
Amazon says they're making deals with app developers in which they pay them a certain amount on a per-minute played basis — in exchange for the developers removing the in-app fees.
Android users should look for apps with the label "Actually Free" to take advantage of apps under the Amazon Underground umbrella.
The Underground app, however, cannot be downloaded through Google Play. Users will have to get the app directly through Amazon because of Google legalities. Customers can go to amazon.com/underground to find out more.
Underground apps are already available on Amazon Fire HD and Fire HDX tablets.