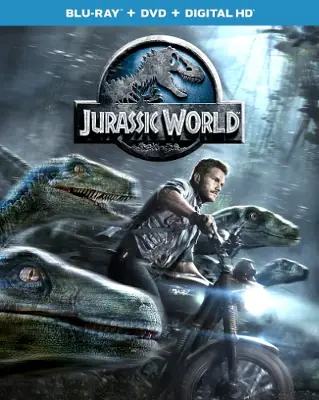 Universal Pictures Home Entertainment has announced the home media release of Jurassic World on Digital HD will be October 1st, 2015, followed by 3-D Blu-ray, Blu-ray, DVD and On Demand a few weeks later on October 20th.
The disc editions of will contain bonus features such as deleted scenes, the behind-the-scenes featurette "Dinosaurs Roam Once Again," and "Chris & Colin Take On the World" where Chris Pratt and director Colin Trevorrow interview each other.
The Blu-ray editions will contain additional exclusive bonus content such as "Welcome to Jurassic World" and "Jurassic World: All-Access" among the four extras.
Jurassic World on Blu-ray Disc is formatted in 1080p resolution at 2.00:1 widescreen aspect ratio, with audio available in English Dolby Digital 2.0 Stereo, Dolby Digital 5.1, and 7-channel DTS-HD Master Audio 7.1 formats.
Several Blu-ray editions of Jurassic World are planned, including a combo with Limited Edition Collectible Steel packaging, a Jurassic World 3D Limited Edition Gift Set with dinosaur statues, and a Walmart exclusive with collectible metal lunchbox.
The Blu-ray combo editions will also include a redeemable Digital HD copy of the film through UltraViolet.
Jurassic World Blu-ray & DVD Bonus Features:
BONUS FEATURES EXCLUSIVE TO Blu-ray:
WELCOME TO JURASSIC WORLD:  An in-depth take on the creation, look and feel of Jurassic World.  Director

Colin Trevorrow 

and

Steven Spielberg

discuss how the idea of the film came together and how the casting was decided with actors' commentary on their roles and filming locations.  
JURASSIC WORLD: ALL-ACCESS PASS:  

Chris Pratt

and Director

Colin Trevorrow

discuss key moments in the film, supported by behind-the-scenes footage and VFX breakdowns.
INNOVATION CENTER TOUR WITH CHRIS PRATT:  

Chris Pratt

gives a tour of the Innovation Center, a museum/exhibit, built just for the movie.
JURASSIC'S CLOSEST SHAVES: Clips from all films in the franchise showing "near death" or extremely scary encounters with dinosaurs.
Blu-ray and DVD BONUS FEATURES
DELETED SCENES
DINOSAURS ROAM ONCE AGAIN:  Behind the scenes look at the making of Jurassic World's visual effects, how the dinosaurs came to life, and actors filmed scenes.
CHRIS & COLIN TAKE ON THE WORLD:   

Chris Pratt

and

Colin Trevorrow

(Director) interview each other and discuss Jurassic World as well as the other Jurassic Park movies.