[sg_popup id="2″][/sg_popup]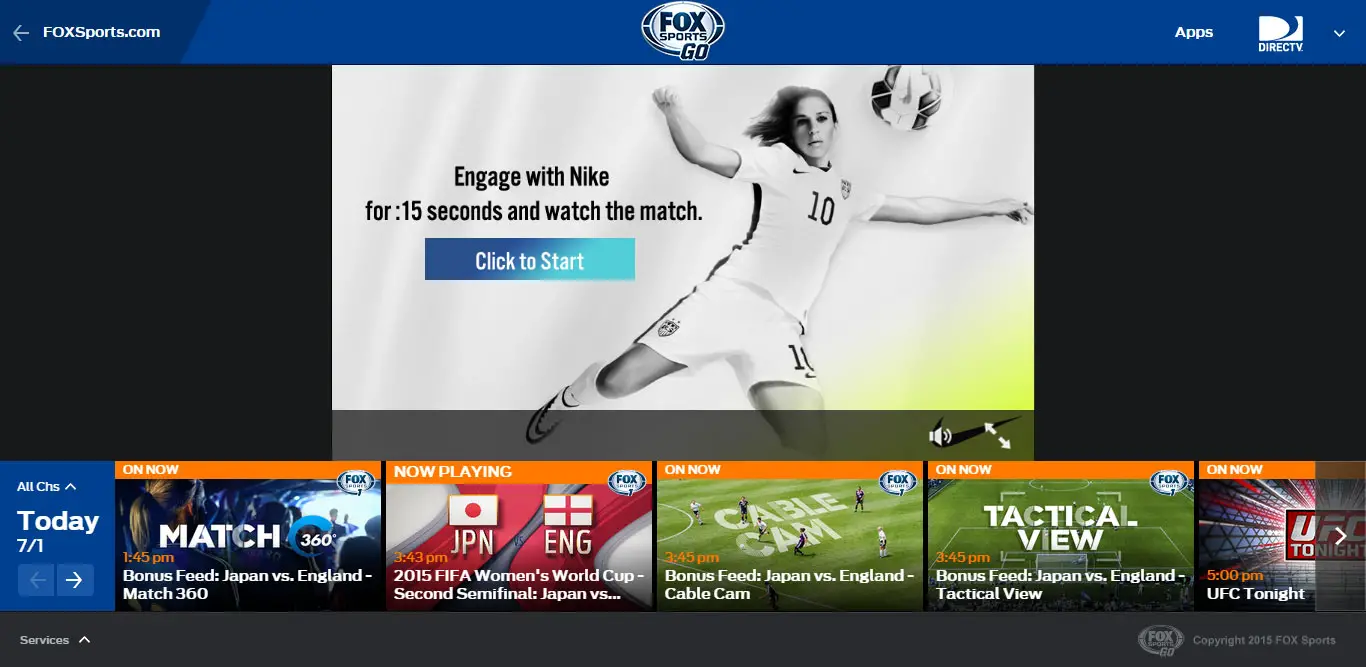 The FOX Sports Go app has been a popular download these past weeks with the success of the USA women's soccer team in the 2015 FIFA World Cup. With the app, or on FoxSportsGo.com, anyone can live-stream the matches, as well as specific camera views, to smartphones, tablets, PCs, and other supporting devices.
Those who own an Amazon Fire TV can also stream Fox Sports Go programming to connected TVs — no set-top box or DVR required.
But not Apple TV or Roku. Score one for Amazon.
Roku usually has an advantage over Fire TV in terms of channels — with hundreds of selections to choose from. But this time it's Fire TV that wins, at least while the FIFA World Cup and U.S. Open are happening (two major sporting events that FOX exclusively covers).
Apple TV doesn't have FOX Sports Go either, and with the delay of Apple's much-anticipated relaunch of Apple TV it may be even longer before the app channel is available on the platform.
However, all three media players support popular sports app channels Watch ESPN, NBC Sports Live Extra, and CBS Sports. [CORRECTION: NBC Sports Live Extra is currently not available for Amazon Fire TV.]
FOX Sports Go is a service that needs to be authenticated with the username and password associated with a TV service account. Otherwise, cord-cutters are out of luck. And, upon installation you need to set location services to "On" otherwise the app won't work.
On the FoxSportsGo.com website and app viewers are subjected to annoying lead-in advertisements that can be skipped (.15 seconds on the website, shorter time on the app). And, some programming may be restricted by location or subscription packages.
Still though, the live-streams are good, and for the FIFA World Cup Fox Sports Go offers the live
network broadcasts as well as alternate streams such as a "Cable Cam," "Match 360," and "Tactical View."
We're not sure how long it will be before FOX Sports Go is available on Roku and Apple TV, but for now you can use a web browser or mobile app to view FOX Sports over the internet.