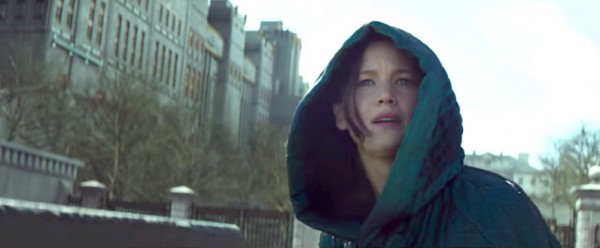 It's been about six months since Lionsgate released The Hunger Games: Mockingjay – Part 1 to theaters. Now, the studio has released the first official teaser trailer for Part 2 of 'Mockingjay' slated to hit theaters on November 20th, 2015. The film was directed by Francis Lawrence (Hunger Games franchise, I Am Legend), with screenplay written by Danny Strong and Peter Craig based on the novel by Suzanne Collins. The teaser trailer is approximately one minute, thirty seconds (scroll down to view).
"With the nation of Panem in a full scale war, Katniss [Jennifer Lawrence] confronts President Snow [Donald Sutherland] in the final showdown. Teamed with a group of her closest friends – including Gale [Liam Hemsworth], Finnick [Sam Claflin], and Peeta [Josh Hutcherson] – Katniss goes off on a mission with the unit from District 13 as they risk their lives to liberate the citizens of Panem, and stage an assassination attempt on President Snow who has become increasingly obsessed with destroying her. The mortal traps, enemies, and moral choices that await Katniss will challenge her more than any arena she faced in The Hunger Games."
In related news, EPIX announced they would be premiering The Hunger Games: Mockingjay – Part 1 on television, Saturday, July 25th.