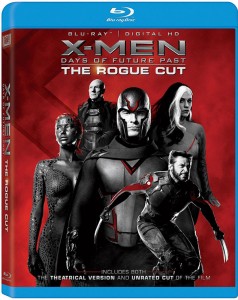 X-Men: Days of Future Past released to Blu-ray Disc and DVD in October, 2014 (six months after the film debuted in theaters), now 20th Century Fox will release the 2-Disc Blu-ray edition X-Men: Days of Future Past the Rogue Cut on July 14, 2015. The edition will include both the theatrical and unrated version of the film, as well as 90 minutes of new, immersive material.
The new 'Rogue Cut' will apparently contain an additional 10 minutes focused on the X-Men superhero, an abundance of which had to be cut for the theatrical version. The 2-Disc Blu-ray edition will also contain a redeemable UV code for a Digital HD copy of the film, 'Rogue Cut' as well.
Here's a look at the details.
X-Men: Days of Future Past the Rogue Cut – Content and Special Features:
BD Disc 1
Both the Theatrical Cut of the Film and the Rogue Cut of the Film
Commentaries

Director Bryan Singer and Composer/Film Editor John Ottman (Rogue Cut)
Director Bryan Singer and Producer/Writer Simon Kinberg (Theatrical Version)

Second Screen App
BD Disc 2
Mutant vs. Machine [9-part making-of documentary]
X-Men: Unguarded
Gallery: Storyboards, Costumes & Concept Art
Fantastic Four Sneak Peek
Digital HD