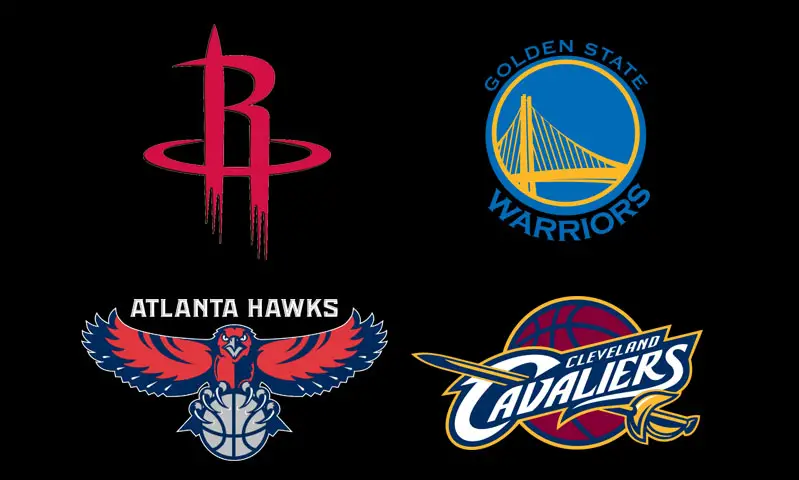 The final four NBA teams of the Eastern Conference and Western Conference were decided over this past weekend, and now we have a full schedule of upcoming playoff games. The first game of the Western Conference finals will take place on Tuesday, May 19th at 9:00 p.m. ET/6:00 p.m. PT. After defending game seven against the Clippers on their home turf, the Houston Rockets will play the Golden State Warriors who will play on two extra days of rest after defeating Memphis last Friday.
The Eastern Conference finals start on Wednesday night when Cleveland will visit top seed Atlanta beginning at 8:30 p.m. ET/5:30 p.m. PT.  Atlanta beat Washington last Friday night in a series that went 4-2, while the Cavs won their series 4-2 last Thursday night against Chicago.
Broadcasts of the 2015 NBA Conference Finals will rotate between TNT and ESPN. If you're away from home, ESPN games can be watched on WatchESPN.com or through supporting apps for mobile devices (now authenticating on DirecTV). TNT can be watched on PCs via web browsers at WatchTNT.com. Both live streaming services require sign-in with a TV service provider.
2015 NBA Eastern & Western Conference Playoffs (Eastern Times)
Tuesday, May 19
Houston at Golden State – Game 1 – 9:00 PM – ESPN
Wednesday, May 20
Cleveland at Atlanta – Game 1 – 8:30 PM – TNT
Thursday, May 21
Houston at Golden State – Game 2 – 9:00 PM – ESPN
Friday, May 22
Cleveland at Atlanta – Game 2 – 8:30 PM – TNT
Saturday, May 23
Golden State at Houston – Game 3 – 9:00 PM – ESPN
Sunday, May 24
Atlanta at Cleveland – Game 3 – 8:30 PM – TNT
Monday, May 25
Golden State at Houston – Game 4 – 9:00 PM – ESPN
Tuesday, May 26
Atlanta at Cleveland – Game 4 – 8:30 PM – TNT
Wednesday, May 27
Houston at Golden State – Game 5 – 9:00 PM – ESPN*
Thursday, May 28
Cleveland at Atlanta – Game 5 – 8:30 PM – TNT*
Friday, May 29
Golden State at Houston – Game 6 – 9:00 PM – ESPN*
Saturday, May 30
Atlanta at Cleveland – Game 6 – 8:30 PM – TNT*
Sunday, May 31
Houston at Golden State – Game 7 – 9:00 PM – ESPN*
Monday, June 1
Cleveland at Atlanta – Game 7 – 8:30 PM – TNT*
*Games if necessary