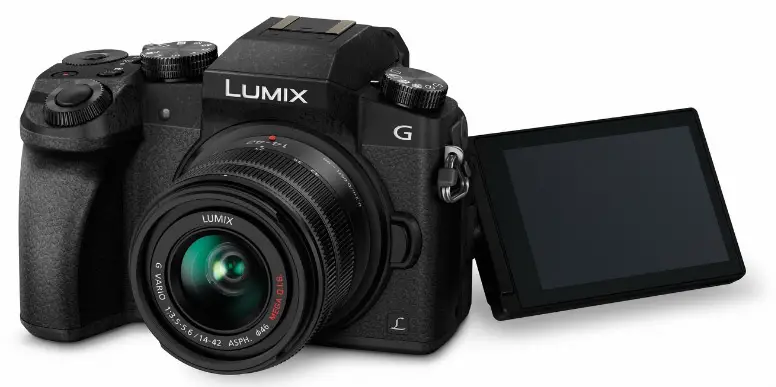 Panasonic's new Lumix DMC-G7 camera with 4k video recording and 4k photo options will be available mid-June. The mirrorless camera records QFHD 4K video in 3840 x 2160 resolution at either 30p or 24p in MP4 format. And, using one of three 4k Photo options (4K Burst Shooting, 4K Burst S/S (Start/Stop), or 4K Pre-burst), users can extract the equivalent of 8-megapixel still images in up to 3840 x 2160 (16:9) resolution.
Other video recording options on the DMC-G7 include Full-HD quality at 1,920 x 1,080 (60p) in AVCHD Progressive, or MP4 (MPEG-4/H.264) format with practical full-time Auto Focus (AF).
As of now, there are 24 compact lens options for the Lumix DMC-G7 in the Micro Four Thirds standard. And, the Lumix G digital interchangeable lens is capable of digital signal communication at a maximum of 240 fps.
Other notable features include support for SDXC/SDHC memory cards with UHS-II bus speed, shutter speeds up to 1/16,000 (electronic), Wi-Fi (IEEE 802.11 b/g/n), panoramic shot functions, and time lapse/stop motion animation modes.
The Panasonic Lumix G7 will be available in three variations. At $799.99, the Lumix G7 (in pewter/gun metal or black) will come with a 14-42mm lens. A more expensive option will be available with 14-42mm lens in black only for $1099.99.