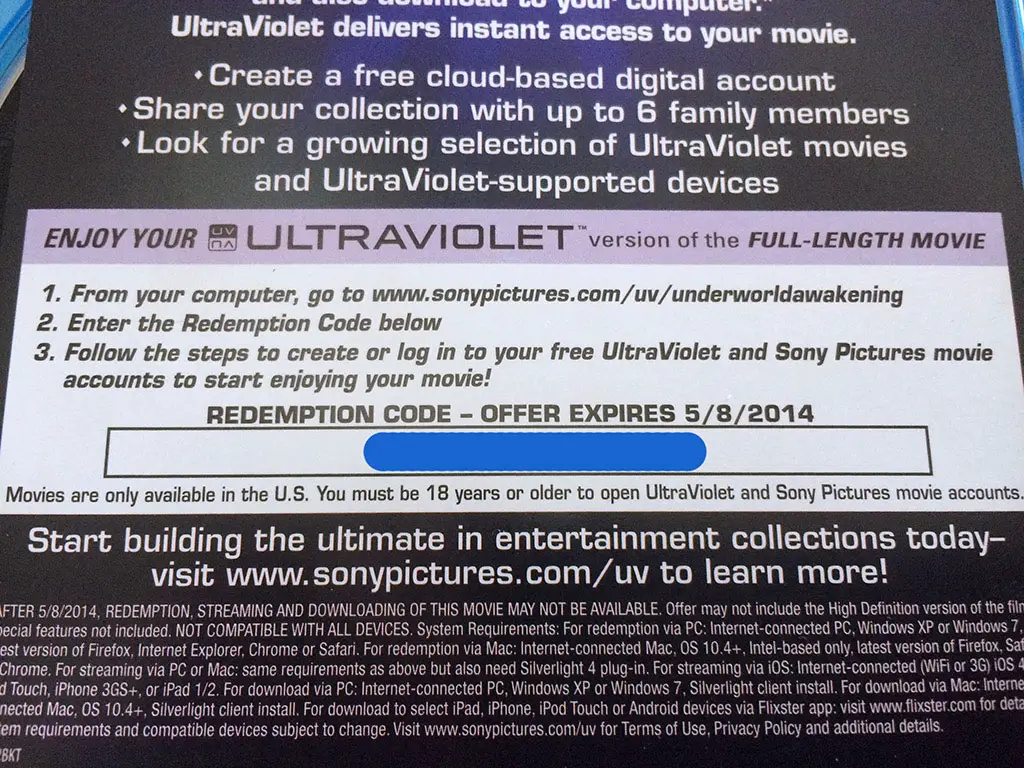 If you've got some Blu-ray Discs with UltraViolet digital redemption codes that have expired, Sony has got you covered, at least until the end of the year. Sony Pictures has extended all expired UltraViolet digital redemption codes through the end of 2015.
Underworld: Awakening is one example of an UltraViolet redemption code that was provided with Blu-ray Discs when the film was released in 2012. The code expired a year ago on May 8th, 2014. But with Sony extending the expiration date, you can still redeem the movie by December 31, 2015.
Unfortunately, the extension doesn't cover Digital Copies that may have expired. However, according to Sony Pictures Store customer service if you have an expired Digital Copy code and the title is available through UltraViolet, you may be able to claim the movie.
To give another example from the same film franchise, Underworld: Rise of the Lycans on Blu-ray included Digital Copy that expired in 2010. But since the film is also available through UltraViolet partners, customers who originally purchased the Blu-ray may be able to add it to their UV collection.
To claim an expired Digital Copy, you'll need both the Digital Copy code and the UPC number before contacting Sony Pictures Store customer service. If approved, the title will be added to your Sony account.
Be sure to share this article with friends to ensure they know about the Sony UltraViolet digital copy extension.