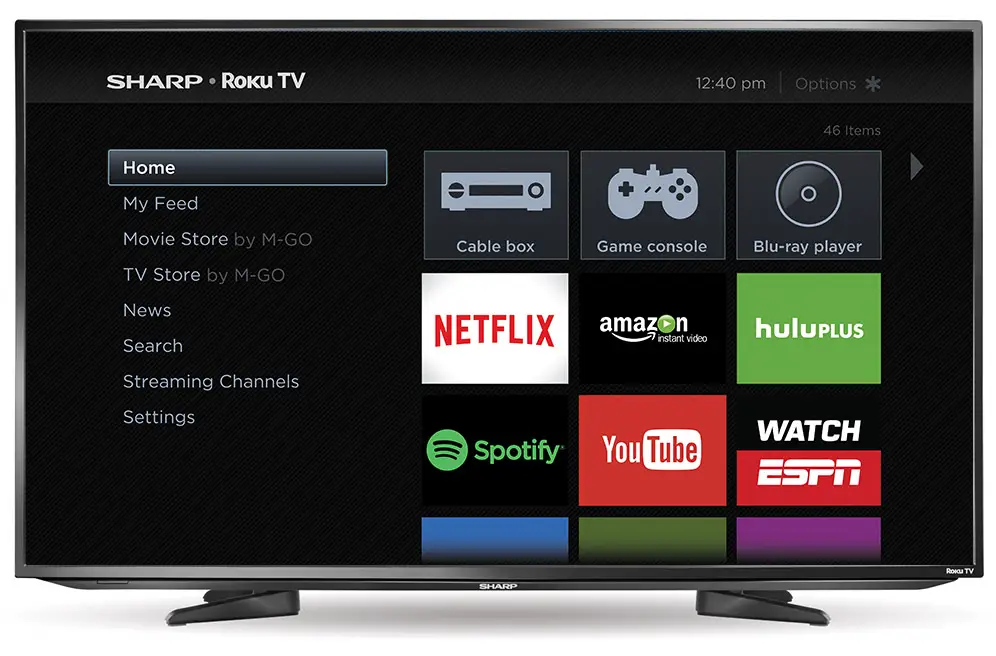 Four new 1080p HDTVs with Roku TV software are available this month exclusively in Best Buy stores. Both Sharp and Insignia have partnered with Roku, each offering two screen sizes. The Sharp Roku TV is available in 43″ and 50″ sizes, while the Insignia Roku TV comes in 32″ and 55″ sizes. With the exception of the 55″ Insignia, the models are available to order online and pick up in-store.
The new Roku TV sets utilize the Roku operating system (Roku OS), allowing users to easily access to the Roku Channel Store and their customized channel lineup. A new feature called Roku Feed lets users know when their favorite entertainment is available to stream as well as the price.
The TV sets come with a simple Roku remote control designed specifically for the Roku OS. However, Roku TVs can also be controlled by a mobile device using the Roku mobile app for iOS, Android, and Windows Phone. In addition, the iOS and Android apps support voice search.
Homemade videos, photos and music can also be cast to the Roku TVs through mobile devices.
Here are some specs and prices on the new Roku TV models:
Sharp Roku TV
43" LED, 1080p, 60hz refresh rate, $379.99 (LC-43LB371U)
50" LED, 1080p, 60hz refresh rate, $499.99 (LC-50LB371U)
Insignia Roku TV
32″ LED, 1080p, 60hz refresh rate, $229.99 (NS-32DR420NA16)
55″  LED, 1080p, 60hz refresh rate, $549.99 (NS-55DR420NA16)
The Insignia and Sharp Roku TV models will also be available in Best Buy stores located in Canada, as well as BestBuy.ca (prices vary from above).
As well as Insignia and Sharp models, TCL Roku TV models are scheduled to hit stores in the second half of 2015.