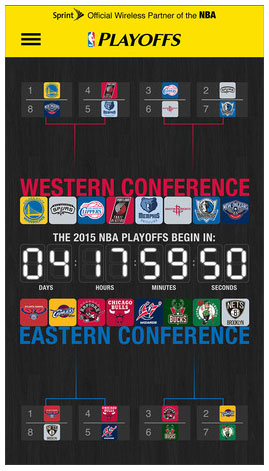 The NBA Game Time app has been updated for the 2015 playoffs, but the latest rollout for iOS devices also includes support for the just-released Apple Watch.
With the app update, Apple Watch owners can check live scores and schedules for all 30 NBA teams. There's also a feature called Glance, that will automatically load your favorite team into view. And, if following a game on the Apple Watch, users can easily switch to viewing on an iPhone using Handoff, an Apple continuity feature for switching between devices.
The NBA Game Time app also supports Force Touch for navigation, a new Apple technology that reads how much pressure is used when touching the screen. (Force Touch is also rumored to be integrated into the next iPhone.)
For the 2015 playoffs, the app for iOS devices (version 6.4), as well as Android (version 5.05), adds a live playoff bracket and includes full playoff series coverage including news, video and schedules.
The 2015 NBA Playoffs begin on Saturday, April 18, at 12:30 p.m. Eastern Time.