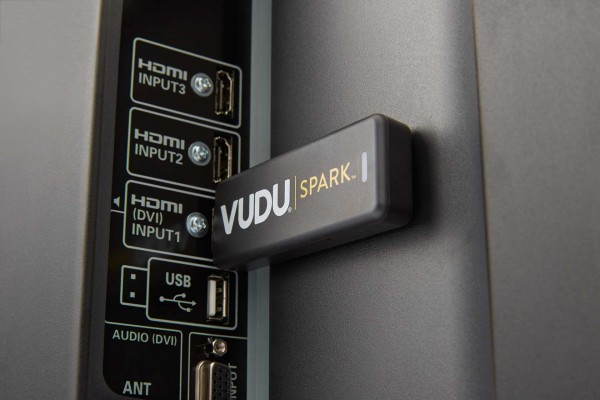 Vudu is now selling the Vudu Spark HDMI/USB stick for purchasing and renting movies on Vudu. The stick is a nicely designed dongle that looks a bit like the Chromecast or Roku Streaming Stick, but unlike those devices it's only meant to access the Vudu service, not multiple online channels.
The Vudu Spark plugs into the HDMI port, and USB port for power. The device supports HDMI 1.4b, HDCP 1.3, and wireless networking through 802.11 Wi-Fi (b/g/n, 2.4GHz). The Spark can play video up to 1080p resolution (no 4k), and up to 7.1 digital surround sound.
One might ask why you would need the Spark if you already have the Vudu app on a Smart TV? Or, if you have a Blu-ray Disc player or gaming console with the Vudu app installed? In either case you probably wouldn't need the device. But for HDTVs that aren't connected, the Spark is an easy way to get all your Vudu and UltraViolet movies streaming to your TV, without the need to run an Ethernet cable.
Walmart is selling the Vudu Spark for $24.96 (both online and in-store). But for a limited time they will send you a $5 credit every month for five months if you purchase the device. That essentially make the Spark free, and even more appealing to those who already using the Vudu app.
Here's a link the Vudu Spark user's manual if you want to learn more.