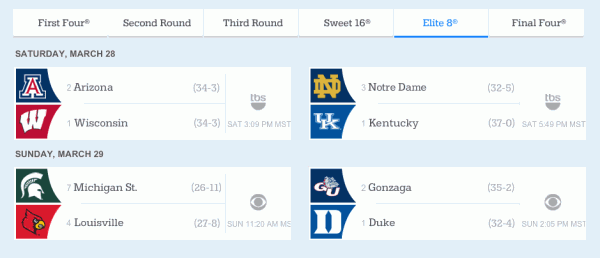 We're down to the Elite Eight of the 2015 Men's NCAA basketball games scheduled for Saturday, March 28th and Sunday, March 29th. The two earlier games will be broadcast on CBS, while the later games will be on TBS.
At 6:09 p.m. Eastern on Saturday, the Elite Eight kicks off with the No. 2 Arizona Wildcats vs. No. 1 Wisconsin Badgers on CBS, followed by the No. 3 Notre Dame Fighting Irish vs. No. 1 Kentucky Wildcats at 8:49 p.m. ET.
On Sunday at 2:20 p.m. Eastern it's No. 7 Michigan State vs. No. 4 Louisville. And, at 5:05 p.m. ET it's No. 2 Gonzaga vs. No. 1 Duke.
If you're away from your main TV at home, there are a couple ways to live stream the games on PCs or mobile devices (scroll down below the schedule).
2015 NCAA Men's NCAA Elite Eight Schedule
Saturday, March 28 (ET)
Tip-off (ET)
Network
Location
Game
6:09 p.m.
CBS
Los Angeles
Arizona vs. Wisconsin
8:49 p.m.
TBS
Cleveland
Notre Dame vs. Kentucky
Sunday, March 29 (ET)
Tip-off (ET)
Network
Location
Game
2:20 p.m.
CBS
Syracuse
Michigan State vs. Louisville
5:05 p.m.
TBS
Houston
Gonzaga vs. Duke
Here's how to stream the NCAA Elite Eight March Madness games:
1. On PC Web Browsers
The first way to watch the Men's NCAA Sweet Sixteen is to simply jump over to the NCAA March Madness Live Web site where the games will be streamed. The Flash-based site will only let you watch if you have authenticated with a valid username and password from a TV service provider. (See pic down below.) Once you sign-in, you won't have to do it again unless you clear out your browser cache.
You can also stream the games through your television service provider's Web site, just be sure you have signed in. Video quality will be determined by the amount of bandwidth available on the network you're connected to. However, locally broadcast games may not be available depending on your provider.
2. Through Mobile Apps for Tablets and Smartphones
The second way to live stream the games is through apps for tablets and smartphones. The March Madness app is available for iOS, Android, and Windows 8 devices. The app requires you sign-in with the username and password associated with your TV service provider. Once logged in, you won't have to do it again unless you delete the app.
As an alternative to the March Madness Live app, many TV providers have their own "TV Everywhere" apps that will let you watch many of their channels while away from home. For example, DirecTV's DIRECTV Everywhere app will let you stream the upcoming TBS games to various devices. However, the Sweet Sixteen games on CBS local stations won't be available .
Remember, the "Watch" option won't be available on the March Madness Live app until there is actually game coverage happening. If you try to access games early you may end up seeing a countdown clock until the next game.