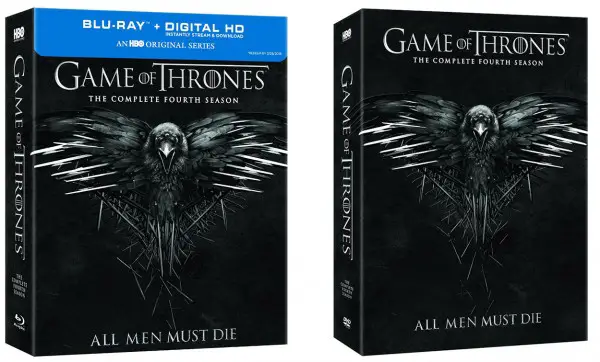 HBO's Game of Thrones: The Complete Fourth Season is now available on Blu-ray Disc and DVD. The Blu-ray edition, to our delight, includes access codes to stream or download Digital HD copies from UltraViolet partners or Apple iTunes. As indicated by the blue label on the outside wrap, the digital copies must be redeemed by February 28, 2018.
Both the Blu-ray and DVD editions contain plenty of extra bonus materials including audio commentaries, two deleted scenes, blooper reel, and a roundtable discussion with cast members. In addition, both editions contain the 37-minute "Behind the Battle for the Wall" documentary, the 25-minute "The Politics of Power: A Look Back at Season 3," and shorter length "Bastards of Westeros," and "New Characters and Locations" featurettes.
The 4-disc Blu-ray edition also contains two exclusive extras. The first is an "In-Episode Guide" (on Discs 1-4) that creates an onscreen guide throughout the season's ten episodes. The second exclusive titled "Histories & Lore" (on Disc 4) gives viewers insight into the mythology of Westeros as told by the characters themselves.
Prices for Game of Thrones: The Complete Fourth Season vary slightly between retailers. Amazon and Best Buy have the 4-disc Blu-ray edition priced at $34.99, while Target and Walmart have the edition priced at $39.99 and $39.96, respectively. The 5-disc DVD edition is priced $29.99 at Amazon, Best Buy and Walmart, while Target has it priced at $34.99.
The final two episodes of the fourth season of Game of Thrones, "The Watchers on the Wall," and the epic finale "The Children," were recently shown in IMAX theaters for a limited time. The theatrical presentation also included a special preview of Season 5.