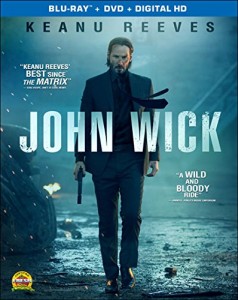 This week The Best of Me starring James Marsden and Michelle Monaghan is available in a "Tears of Joy Edition" with Blu-ray and Digital HD copies of the film. The digital copy is redeemable through UltraViolet, supported by companies such as Target, Walmart's Vudu, and Best Buy's Cinema Now. The film from 20th Century Fox  is about two high school sweethearts who reunite in the small town they left years ago.
Keanu Reeves stars in John Wick, a former assassin who gets pulled back into the business. The Blu-ray Disc combo from Lionsgate packs copies on Blu-ray and DVD, and includes a Digital HD copy redeemable through either UltraViolet or iTunes. It should be noted the DVD edition also includes a digital copy (in SD quality).
And, Luke Evans stars as Vlad The Impaler in Dracula Untold from Universal and Legendary Pictures. The Blu-ray combo includes copies of the film on BD, DVD, and Digital HD via either UltraViolet or iTunes. The BD combo also includes several exclusive featurettes, deleted scenes, interactive map, and audio commentary.
Those are our top picks for the week. Check out the longer list of new releases below.
New Blu-ray, DVD, and Digital HD releases Feb. 3, 2015
The Best of Me (Blu-ray, DVD, Digital HD w/UltraViolet)
John Wick (Blu-ray, DVD, Digital HD w/iTunes, UltraViolet)
Dracula Untold (Blu-ray, DVD, Digital HD w/iTunes, UltraViolet)
 The LEGO Movie (Blu-ray, DVD)
Ouija (Blu-ray, DVD, Digital HD w/iTunes, UltraViolet)
Dear White People (Blu-ray, Digital HD)
Anzac Girls (DVD)
Blended (Blu-ray, Digital HD w/UltraViolet)
One Piece: Collection Eleven (DVD)
The Bob Newhart Show: Season 5 (DVD)
Wonder Years Season 2 (DVD)
The Disappearance of Eleanor Rigby (2-Discs "Him" and "Her")