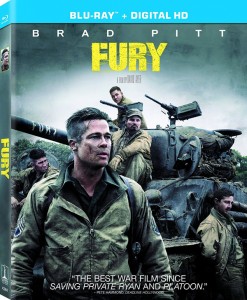 Wondering what to pick up from Best Buy on your way home from work today? Sony Pictures has released Fury to Blu-ray in a 1-disc edition that includes a digital copy via UltraViolet. Both Best Buy and Walmart have exclusive 2-Disc editions of Fury. Best Buy's includes over an hour of extras while the Walmart exclusive bundles Fury with Company of Heroes (2013). The Blu-ray is formatted in 1080p video with DTS-HD Master Audio 5.1 soundtrack.
PBS has released Masterpiece: Downton Abbey Season 5 to a 3-disc edition (in both Blu-ray & DVD) that includes all nine episodes of the Masterpiece production ahead the U.S. broadcasts. The Blu-ray is labelled the "Original UK Edition" with video in 1080p and soundtrack in DTS-HD Master Audio 2.0. Both the Blu-ray and DVD edition include over 40 minutes of bonus video.
And, 20th Century Fox has released Book of Life to Blu-ray, DVD, and digital formats. The 2-disc combo provides the most value for your buck with a Blu-ray, DVD, and Digital copy redeemable via UltraViolet or iTunes. There's also a 3-disc edition that includes a copy of the film in 3D. Book of Life on Blu-ray is formatted in 1080p video with an expansive 7-channel DTS-HD Master Audio soundtrack. Diego Luna, Zoe Saldana, and Channing Tatum provide voiceovers for the animated adventure.
Those are our top picks for the week. Check out more titles available this week on Blu-ray, DVD and Digital HD.
Fury (Blu-ray, Digital HD w/UltraViolet)
Masterpiece: Downton Abbey Season 5
Book of Life (Bu-ray 3D, Blu-ray, DVD, Digital HD w/iTunes, UltraViolet)
Justice League: Throne of Atlantis (Blu-ray, DVD, Digital HD w/UltraViolet)
The Judge (Blu-ray, DVD, Digital HD w/UltraViolet)
The Replacements
Jean De Florette / Manon Of The Spring
Henry V
My Old Lady
Before I Go To Sleep
Log Horizon: Collection 2
The Remaining
Maid Sama
Return to Me
Jin-Roh: The Wolf Brigade
Why Don t You Play in Hell? (Blu-ray, Digital HD w/UltraViolet)
 Pork Chop Hill (1959)