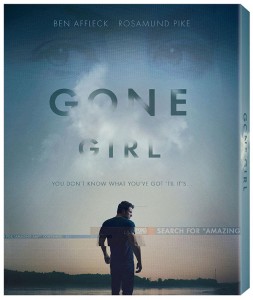 This week Golden Globe-nominated Gone Girl is available in single-disc Blu-ray and DVD releases. The Blu-ray edition comes in a DigiPack slipcover with digital copy via UltraViolet download (although this is not indicated on the cover), and a booklet titled Amazing Amy Tattle Tale (see picture of opened product below). Audio (with soundtrack by Trent Reznor and Atticus Ross) is provided in English DTS-HD Master Audio 7.1, underscoring the 1080p video in 2.40:1 widescreen aspect ratio.
A Walk Among the Tombstones starring Liam Neeson hits stores in a 2-Disc combo edition with Blu-ray, DVD, and downloadable Digital HD copy through UltraViolet or iTunes. The combo includes a Blu-ray Disc exclusive "Matt Scudder: Private Eye," along with the bonus feature "A Look Behind the Tombstones." The standard-resolution DVD is formatted in Anamorphic Widescreen 2.40:1 with English 5.1 DVS soundtrack.
HBO's Boardwalk Empire: The Complete Fifth Season is available this week in a four-disc edition with digital copy redeemable through either UltraViolet or iTunes. In addition to the eight episodes from Season 5, bonus features include the featurette "Scouting the Boardwalk" along with audio commentaries from cast and crew including show creator Terence Winter. Video on the BD is formatted in 1080p at 2.40:1 widescreen aspect ratio, with soundtracks offered in English DTS-HD Master Audio 5.1 and Dolby Digital 2.0.
Those are our top picks for the week. Check out an extended list of new released below. Multiple formats are indicated within parentheses.
New Blu-ray, DVD and Digital HD releases January 13, 2015
Gone Girl

(Blu-ray, DVD, Digital HD w/UltraViolet)

A Walk Among the Tombstones

(Blu-ray, DVD, Digital HD w/iTunes & UltraViolet)

Boardwalk Empire: The Complete Fifth Season

(Blu-ray, Digital HD w/iTunes & UltraViolet)

The Scorpion King 4: Quest for Power

(Blu-ray, DVD, Digital HD w//iTunes & UltraViolet)

A Certain Magical Index: The Movie – The Miracle of Endymion

(Blu-ray, DVD)

At the Earth's Core (1976)

Capricorn One

Love Is Strange

Jessabelle (Blu-ray, Digital HD w/UltraViolet)

River's Edge (1986)

Supernova (2000)

The Twilight Saga: Twilight/New Moon/Eclipse

(Blu-ray, Digital HD)

Wetlands

Jimi: All Is By My Side (Jimi Hendrix)

Razor's Edge (1946)

The Bitter Tears of Petra von Kant – Criterion Collection (1972)

My Left Foot

(Blu-ray Disc, Digital HD)

Chaos Head: The Complete Series S.A.V.E.

The Falcon and the Snowman (1985)

Dances With Wolves 25th Anniversary (1990)

Skin (1981)

Foxes (1980)

Jersey Girl (2004)

Marvin's Room (1996)

Parenthood (1989)

Dead Man (1995)

Once Upon A Time In Shanghai

Sum of the Parts

Ancient Aliens Ssn 6 Vol 2

Fitzcarraldo (1982)

The Two Faces of January

Racing Hearts

The Identical

Honeymoon

Art of War

Young Ones

Revenge of the Green Dragons