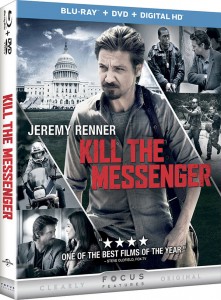 Kill The Messenger had a limited theatrical release in the United States last October, but that doesn't mean you can't have your own premiere at home. The film will first be available in digital format on January 27th, 2015, followed by Blu-ray Disc, DVD, and On Demand formats Tuesday, February 10th.
The Blu-ray Combo Pack from Universal Pictures Home Entertainment will include Blu-ray, DVD, and Digital HD copy of the film via UltraViolet, as well as exclusive bonus content such as deleted scenes, several production featurettes, cast profiles, and audio commentaries.
The Blu-ray disc is formatted in 2.40:1 widescreen aspect ratio at 1920 x 1080 resolution. Audio formats include English DTS-HD Master Audio 5.1 and Dolby Digital 2.0.
Kill The Messenger stars Jeremy Renner (The Hurt Locker) as journalist Gary Webb who reveals the CIA's role in cocaine exporting and arming Contra rebels in Nicaragua. The film is based on a true story written by Gary Webb, and was directed by Emmy-winner Michael Cuesta (Homeland).