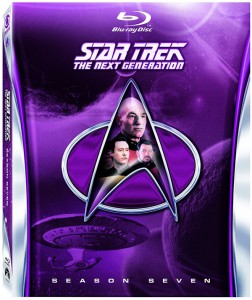 Star Trek: The Next Generation – Season 7 is now available to pre-order on Blu-ray Disc. The final season of the long-running show from Paramount Television is packaged in a 6-disc collection that contains all 25 episodes that aired from 1993 to 1994. Along with the episodes, extra supplements include six featurettes (three in HD), audio commentary by Brannon Braga, deleted scenes (in HD), and gag reels (also in HD).
Like previously released TNG seasons, the episodes have been digitally remastered to 1920 x 1080p video at 1.33:1 aspect ratio, underscored by an English DTS-HD Master Audio 7.1 soundtrack. Total run-time of the boxed set is 1174 minutes.
Star Trek: The Next Generation – Season 7 is set to release on Tuesday, December 2nd, 2014. On the same day, Paramount will also release the feature-length series finale titled 'All Good Things' to a single-disc Blu-ray edition.
Suggested list price for the season set is $129.99 while 'All Good Things' is $29.99.