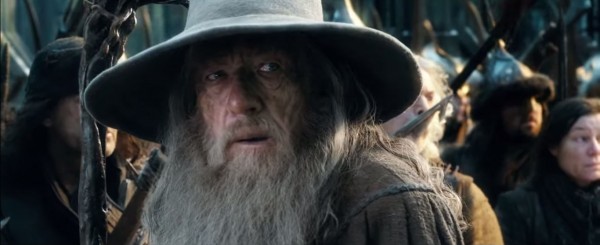 Warner Bros. Pictures has released what is called the "Official Main Trailer" for the upcoming conclusion of Peter Jackson's 'Hobbit' trilogy titled The Hobbit: The Battle of the Five Armies. This is the second official trailer from the Warner Bros. Pictures YouTube channel, the first being the official teaser trailer released back in July that gave us a peak at the upcoming film.
This new, two-minute and thirty-second trailer focuses on Thorin Oakenshield and the choices he makes after reclaiming the throne, all along fighting an obsession with the mountain's treasures. The final installment of the trilogy leads to the Battle of the Five Armies, one of J.R.R. Tolkien's most memorable middle-earth creations.
The Hobbit: The Battle of the Five Armies stars Martin Freeman as Bilbo Baggins, along with Oscar-winning actress Cate Blanchett as Galadriel, Oscar-nominee Ian McKellen as Gandolf, Richard Armitage as Thoren Oakenshield, and Benedict Cumberbatch as Smaug.
The film will release to 2D theaters and 3D theaters including RealD 3D, HFR 3D, and IMAX 3D on December 17, 2014.