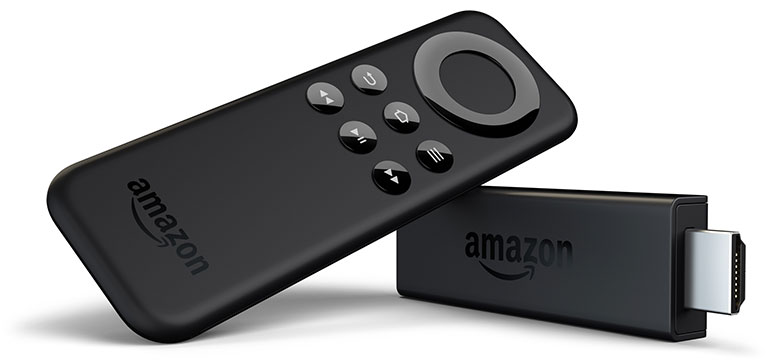 As Amazon's last quarterly report left some investors wondering how many more new products would launch at a loss, the company has introduced a streaming media stick to compete with Google's Chromecast and the Roku Streaming Stick, small HDMI-connected devices that accomplish many of the tasks of larger, palm-sized streaming media players. At $39, the Amazon Fire TV stick is just four dollars than the $35 Chromecast and just $11 less than the Roku Streaming Stick.
Like its competitors, the Fire TV Stick lets users stream video from services such as Netflix, Hulu Plus, and of course, Amazon Prime Instant Video. (Unfortunately, it does appear to support HBO Go or Vudu yet.) There are also apps for Showtime Anytime, Twitch, and Crackle. Streaming music apps include iHeart Radio, Prime Music, Pandora, and Spotify. And, popular sports apps include NBA Game Time, MLB.TV, NFL Now, and WatchESPN.
Amazon boasts the stick's dual-core processor, 1 GB RAM memory, and 8 GB storage (twice the amount of RAM and storage as Chromecast), as well as dual-band/dual-antenna (MIMO) Wi-Fi.
In addition, the device allows users to Fling or mirror content from smartphones and tablets directly to Fire TV Stick using Fire tablets, the Fire phone, and Miracast-enabled devices. The device supports ASAP (Advanced Streaming and Prediction) that starts buffering predicted content before you watch. And, X-Ray for movies and TV shows, and X-Ray for music is also supported.
To compare a few points. Chromecast does not include a remote control (you need to use the Android app), but the Fire TV stick does. However, a free app for the Fire TV Stick will let you control the device from your phone, as well as perform voice searches. The Fire TV stick packs more RAM and storage than Chromecast and Roku. And, the Amazon Game Controller can optionally be used with the Fire TV Stick. The included remote control, however, does not appear to include a headphone jack — a nice feature of the Roku Streaming Stick.
The Fire TV Stick will start shipping November 19th, 2014. Amazon is currently offering a two-day introduction special with the Fire TV Stick priced at $19.