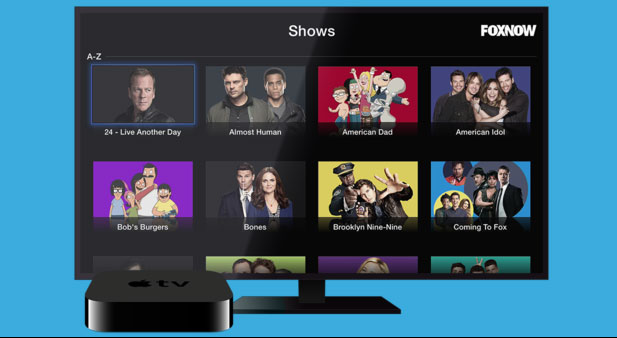 If you're a regular Apple TV user and frequently check the available channels listings, you may have already noticed two new apps for the streaming platform. CNBC and FOX Now have been added to the lineup, bringing Apple TV's selections close to 40 channels. The selections are a lot less than what you find on the Roku platform, but around the same number available on Amazon's Fire TV.
CNBC offers video clips to even non-subscribers, but you get much more if you authenticate using the name and password associated with your TV provider, including on-demand content and live streaming of the channel. TV providers that authenticate CNBC include AT&T U-verse, Comcast Xfinity, DirecTV, DISH, and Verizon FiOS among others.
FOX Now offers full episodes from shows such as Family Guy, Brooklyn Nine-Nine, and Sleepy Hollow. And while new episodes are available to those who authenticate the app with a television service, select episodes from shows like 24: Live Another Day and Cosmos are offered without an account setup. The app can be authenticated with AT&T U-verse, Comcast Xfinity, Cox, DISH, Time Warner Cable, and Verizon FiOS among others. (Note: DirecTV does not authenticate at this time.)
What is Apple TV still missing?
Apple TV has yet to support the Showtime Anytime app [Update: Showtime Anytime added!] even though Roku and Fire TV already support it. Apple TV is also missing Amazon Instant Video (which may be because Apple wants you buying content exclusively from iTunes), as well as Epix, M-Go, SyFy and TWC TV (all found on Roku), among other app channels.
Apple TV, however, is supposedly getting the FX Now app by year's end. We'll keep you posted. [Update: FX Now and other new channels added.)
Here's a complete list of Apple TV channels currently available.
[Correction: Our apologies for referring to "Apple TV" as "iTunes" in the title.]