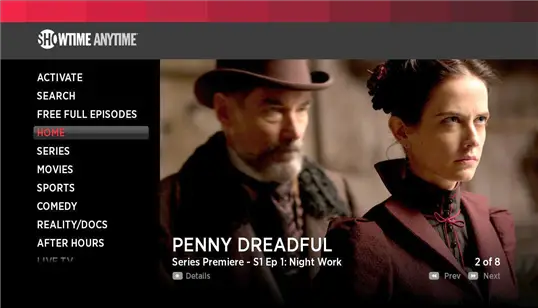 Apple TV has become an even more appealing streaming media device in the last few months, what with the recent additions of app channels such as A&E, ACC (Atlantic Coast Conference), CNBC, FOX Now, History, Lifetime, and WWE networks. And, added last June, ABC News, PBS Kids, AOL On, and Willow.
Now we get word of two new additions to the Apple TV lineup; the long-awaited Showtime Anytime app, and, the NFL Now app just in time for the regular season of pro football. In addition, the iTunes Festival app has been re-launched for the 2014 iTunes Festival in London.
The Showtime Anytime app has been around for some time now for Android and iOS devices, as well as for competing streaming media players Roku and Fire TV. The channel offers movies and Showtime original TV shows on-demand after authenticating with your TV provider username and password.
NFL Now was also just added to the lineup. The channel offers personalized NFL coverage for real and fantasy teams, breaking news, game-day highlights, and access to a library of NFL videos.
Apple is offering free viewing of the iTunes Festival on Apple TV all through September. And, those who purchase an Apple TV by Sept. 30 will get a $25 iTunes Gift Card.
Here's a list of Apple TV channels currently available.