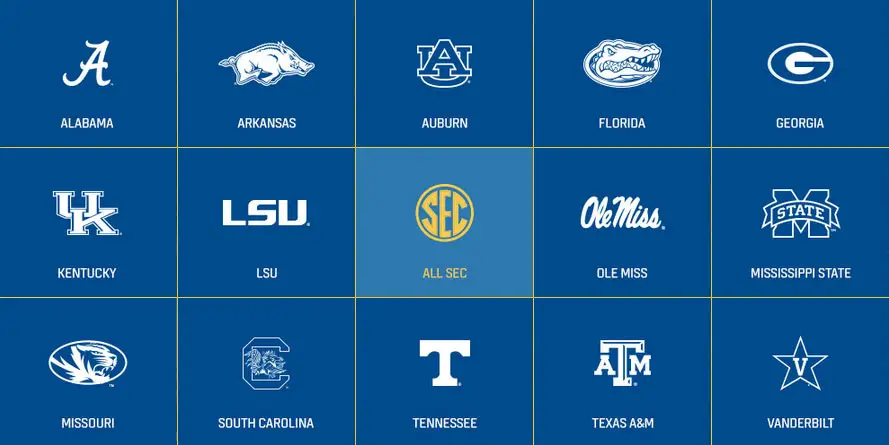 SEC Networks launched today across major TV service providers including AT&T U-verse, Bright House Networks, Charter, Comcast Xfinity, Cox, DIRECTV, DISH, Google Fiber, and Time Warner Cable, and many other providers nationwide. The ESPN-owned network plans to cover approximately 45 football games, 100 men's basketball games, 60 women's basketball games, and 75 baseball games throughout the year. The Southeastern Conference college football season will kick off on Thursday, August 28 with live broadcasts of Texas A&M vs. South Carolina, and Temple vs. Vanderbilt.
While AT&T was the first to announce carriage of the new network in January of this year, other providers including Bright House Networks, Charter, Comcast, Cox, DIRECTV, and Time Warner Cable all recently announced deals with ESPN. Verizon has not announced plans to carry SEC as far as we know. [Update: Verizon launched SEC Network on Sept. 18, 2014.)
SEC Network  broadcasts in 720p( HD) and 480i (SD). So far, channel location including HD broadcasts have been verified for AT&T (Ch. 1607), DIRECTV (Ch. 611), DISH (Ch. 408), and Grande (Ch. 877). We've listed channel locations for confirmed providers below. If you have cable, you'll need to search for the channel on your guide or call your local service for location. To see if your provider carries SEC see this full list.
SEC Network can be found on:
AT&T U-Verse 1607 (HD) 607 (SD)
COX 1329 (HD) 329 (SD) / SEC 2 1339 (HD) 339 (SD)
DISH 408 (HD/SD) and 404 (Hopper HD/SD)
DirecTV 611 (HD/SD)
Grande 877 (HD) 77 (SD)