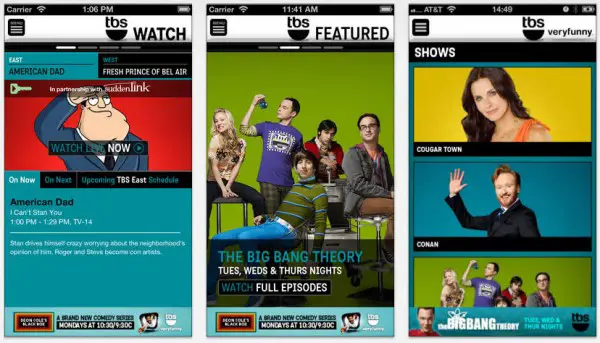 The Watch TBS app has been updated for Android and Apple iOS devices with a helpful change that allows resuming of shows and movies through a view history option across multiple devices. This is an app feature that most major services have integrated, and a welcome addition to the TBS service. The update also includes viewing enhancements and performance improvements on both platforms.
After authenticating with a cable or satellite TV provider username and password, the Watch TBS app gives users access to either the East or West live network with full episodes of shows such as Conan, Cougar Town, and The Big Bang Theory. The app also provides episode guides, watch clips, behind-the-scenes videos, and the ability to set scheduled reminders for show times. For social media users, the app integrates GetGlue, Facebook and Twitter.
The Android app Version 2.5.2 (15MB) was last updated on July 24, 2014 and requires Android 2.3.3 or higher.
The Apple iOS app Version 2.7.1 (14.1MB) was last updated on July 31, 2014 and requires iOS 5.0 or higher.