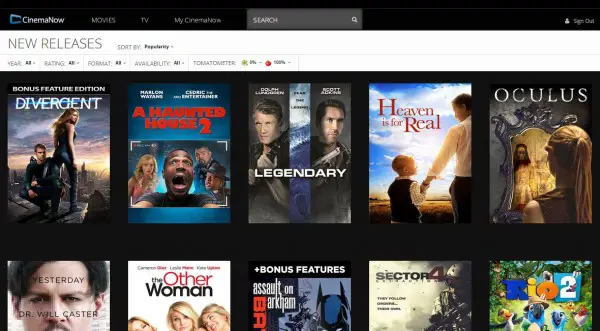 CinemaNow is was Best Buy's online video delivery service, offering movies and TV shows to stream or download just as you would with Apple iTunes or Walmart's Vudu. But did you know you can link your entire UltraViolet movie collection to CinemaNow? We first might explain what UltraViolet is just to be sure we're on the same page.
UltraViolet is essentially a database of the digital movies and TV shows you own. The format is used by several studios to give customers access to stream or download digital titles that are either purchased online through digital services or through UV (UltraViolet) license codes provided with Blu-ray Disc combo packs and some DVDs.
You may have already purchased a movie with an UltraViolet access code and not even known it. Blu-ray combo packs from some distributors have a blue stripe at the top of the packaging indicating a Digital HD or UltraViolet copy is enclosed. The codes have an expiration date, but are usually valid for several years after the disc's street date.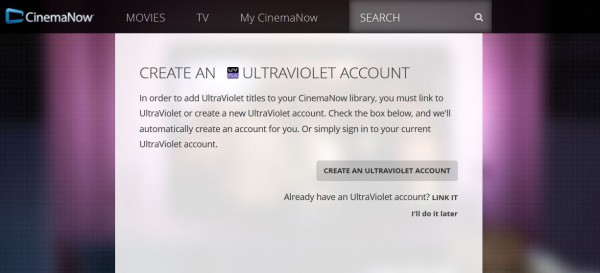 To link your UV library to CinemaNow just open CinemaNow on your web browser or app and during the setup you'll be asked to link your UltraViolet account. If you don't have a CinemaNow account, just set one up and you'll be asked to join your UltraViolet account (this is usually the second step in setting up a new account). We suggest signing up for CinemaNow with the same email address you have for Best Buy.
Once you link the two services your entire UltraViolet library will be loaded right into CinemaNow, combining all your digital movie and TV show purchases.
Linking your UV account to CinemaNow doesn't really give you any benefits beyond being able to access all your titles in one place, but if you're a Best Buy customer you may consider using the CinemaNow apps for tablets and phones, or using the CinemaNow website to access movies through an internet browser. CinemaNow is also available on Smart TVs, Blu-ray Disc players, PlayStation, Xbox 360. (Support for PlayStation 4 and Xbox One is not yet available.)