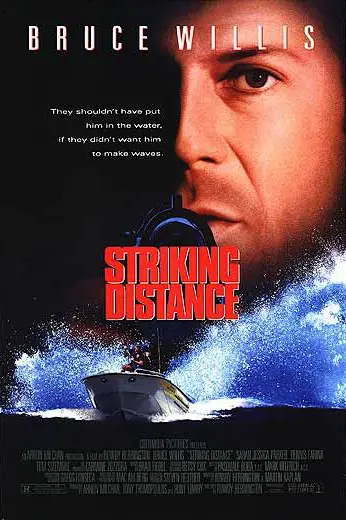 Starting next Monday, Sony Movie Channel will begin a four week schedule with films that star actors from the Expendables including Bruce Willis, Dolph Lundgren, Jean-Claude Van Damme, Arnold Schwarzenegger, Antonio Banderas, Wesley Snipes, and Jet Li. The theme-based slate of films begins with two Bruce Willis films – Striking Distance (1993) and Hudson Hawk (1991) on August 4 at 10 p.m. ET. Most of the films air twice in the evening, so if you miss the first broadcast you can always stay up or set your DVR to record.
Sony Movie Channel (SMC) has also planned other themes for the month including: Take Two Tuesdays (broadcasting two movies that are based on one theme); The Recline (classic films on Wednesdays from the 40's up through the early 70's); Killer Thursdays (horror and suspense films); Friday Features (popular movies such as The Cable Guy and Rudy); and Summer Sundays in HD (popular cinematic favorites such as Vertical Limit, All That Jazz, and The Last Picture Show).
In the US, Sony Movie Channel broadcasts in 1080i (HD) and is available on DISH (Ch. 386), DIRECTV (Ch. 568) and AT&T U-Verse (Ch. 1791), Verizon FiOS (Ch. 735), and most cable TV platforms. Check your local listings.
Sony Move Channel, August "Mandays" Schedule:
Monday, August 4 – starring Bruce Willis
10 p.m. & 1:40 a.m. – STRIKING DISTANCE (1993)
11:50 p.m. – HUDSON HAWK (1991)
Monday, August 11 – Dolph Lundgren & Jean-Claude Van Damme
10 p.m. & 1:35 a.m. – DIAMOND DOGS (2008)
11:45 p.m. & 3:20 a.m. – MAXIMUM RISK (1996)
Monday, August 18 – Arnold Schwarzenegger & Antonio Banderas
10 p.m. & 2:10 a.m. – LAST ACTION HERO (1993)
12:20 a.m. & 4:30 a.m. – DESPERADO (1995)
Monday, August 25 – Wesley Snipes & Jet Li
10 p.m. & 1:15 a.m. – THE DETONATOR (2006)
11:45 p.m. & 3 a.m. – LEGEND OF THE RED DRAGON (2002)