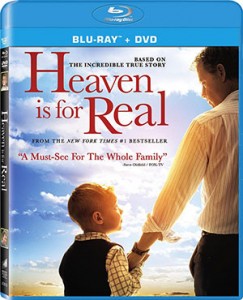 This week Heaven is For Real starring Greg Kinnear is available on Blu-ray, DVD, and in Digital format to download or stream. A 2-Disc combo edition from Sony Pictures Home Entertainment includes Blu-ray, DVD and Digital HD copy via UltraViolet all in one package. Based on the New York Times best-selling book, the film recounts the true story of a small-town father who must find the courage and conviction to share his son's extraordinary, life-changing experience with the world.
Transcendence starring Johnny Depp is also now available in a 2-Disc edition from Warner Home Video that includes Blu-ray, DVD and Digital HD copy with UltraViolet. In Transcendence, artificial intelligence researcher Dr. Will Caster (played by Depp) is working on a machine that the collective intelligence of humans, but becomes a target for anti-technology extremists.
Other Blu-ray and Digital releases this week include: Sabotage starring Arnold Schwarzenegger; the almost cult status Anaconda starring Ice Cube, Jennifer Lopez, and Jon Voight; and the 1990 film Flatliners with an all-star cast that included Kiefer Sutherland, Kevin Bacon and Julia Roberts.
New Blu-ray, DVD & Digital HD releases July 22, 2014
Heaven is For Real
Transcendence
Sabotage
An American Girl: Isabelle Dances into the Spotlight
Anaconda
Flatliners (1990)
The Private Life of Sherlock Holmes (1970)
Appleseed: Alpha
Ginger Snaps
Legend of Billie Jean – Fair is Fair Edition
Witness for the Prosecution (1957)
Live at Montreux 2013 – ZZ Top
Blue Ruin
Devil Is a Part Timer: Complete Series
Shogun
The Scalphunters (1968)
Home is For Real