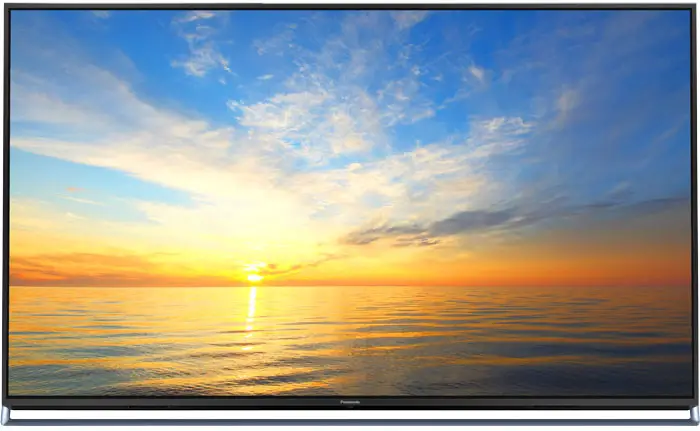 Panasonic has just made their first consumer-level 4k 'Ultra HD'  TVs available from their online store. Introduced at CES 2014, the available models include 58-inch and 65-inch sizes from the Viera AX800 series. Panasonic has already put a strikethrough on the MSRPs of these sets. The 58-inch model, list-priced at $3,799, is now marked down to $3,299. The larger 65-inch set has a list-price of $4,499, but is currently available for $3,999. We imagine the lower prices will stick. However, Panasonic may be offering special introductory pricing before the sets are made more widely available. As of now you can only get them at Panasonic.com.
The AX800 series 4K TVs feature 4K/60p input design based on HDMI 2.0 and DisplayPort 1.2a specs, with support for HDCP 2.2-compliant content and H.265 (HEVC) content. The TVs are THX 4K Certified, with Studio Master Drive for accurate color reproduction, 2400 BLS (Back Light Scanning) technology to reduce image blur, and Life+Screen Smart TV software.
And, while plasma TV production is on the decline, Panasonic boasts the new 4k TVs provide the same color gamut level as plasmas, with support for 98% of professional DCI studio color standards.
Panasonic is currently offering a free Smart Network 3D Blu-ray Disc player (DMP-BDT460) with the purchase of one of the AX800 series.
Panasonic 4k 'Ultra HD' AX800 Series Price Chart
AX800 Series
Model
Screen Size
MSRP
Price
Shipping
TC-65AX800U
65″ (64.5″ Diag.)
 $4,499.99
$3,999.99
July, 2014
TC-58AX800U
58″ (57.5″ Diag.)
$3,799.99
$3,299.99
July, 2014
Usage: If you would like to use this chart please include credit and/or link back to HD Report.