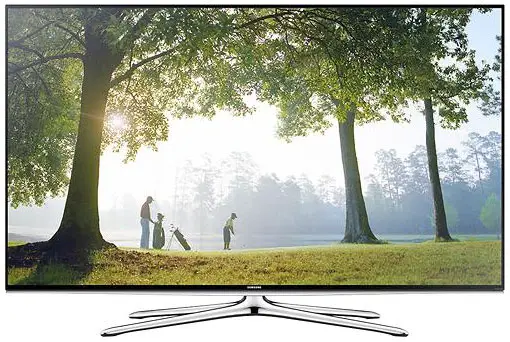 This year's Best Buy 4th of July sale has a few hits, but also misses on any door-busting electronics deals. For example, the second HDTV listed on Best Buy's web flyer is an outdated 720p Samsung 51-inch plasma TV for $399. Yeah, it's 51-inches and it's only $399, but it's 720p. Where are the Smart OLED and 4k TVs? While individual stores may have some great July 4th deals going on, and surely there are discounts on select Smart TVs, we took a look at the online flyer and pulled out our hits for the holiday sale.
The 55-inch Samsung UN55H6350 (pictured above) is one of the better deals we found. The 1080p TV has 120Hz refresh rate and Smart technology with built-in Wi-Fi. The $999 sale price represents a $400 savings off the list price of $1,399.
A nice package to pick up is the Toshiba laptop bundle for $379. The bundle comes with a 15.6″ Toshiba C55-B5200 laptop with Intel Core i3 processor, 6GB RAM, and 750GB hard drive. Accessories include Webroot internet security software, Targus laptop sleeve, Logitech mouse & 8GB flash drive. The price break, Best Buy claims, is $109.
Best Buy is giving the usual mediocre discounts on Apple products, which typically drop the retail by about $100-$120 bucks. Apple doesn't need big discounts to sell products, but the $120 break on several iMac models can help cover the cost of extended coverage (which we highly recommend).
Speaking of Apple, if you've got an iPhone 5 or iPhone 5s they are selling the Mophie Helium Charging Case (pictured below) for $39.99. The case makes your iPhone quite a bit taller and slightly heavier, but adds some extra battery time to your iPhone when needed. The case is list-priced at $79.99, so the sale ends up being a $40 discount.
And, if you're in the market for a new digital SLR, Best Buy has the Canon EOS Rebel T3 with 18-55mm lens for just $299. That's a heck-of-a-deal considering list price is $449 (a savings of $150). Want to upgrade your photos from point-and-shoot pocket camera you've been using? Get this entry level Canon SLR and you'll never want to go back to mediocre snapshots.
Finally, to go along with the Rebel you can snag a SanDisk Pixtor 32GB SDHC memory card for just $19.99 (List Price: $69.99).
Here's what we picked out from the Best Buy nationwide July 4th sale advertised online. Again, you may find even better sale items at individual Best Buy stores.
Best Buy 2014 July 4th Sale
Samsung 55″ Class LED 1080p HDTV – $999 (Save $400)
Toshiba C55-B5200 Laptop Bundle – $379 (Save $109)
Canon EOS Rebel T3 DSLR Camera w/18-55mm Lens – $299 (Save $150)
SanDisk Pixtor 32GB SDHC Class 10 Memory Card –  $19.99 (Save $50)
Apple 21.5″ iMac w/8GB Memory, 500GB hard drive – $979 (Save $120)
Panasonic Smart Blu-ray Player w/Wi-Fi – $74.99 (Save $25)
Mophie iPhone 5/5s Juice Pack Helium Charging Case –  $39.99 (Save $40)
Samsung Galaxy Tab 3 Lite Tablet, Case & Memory Card Package – $159 (Save $64.98)
Select Blu-ray Discs and DVDs – Up to 60% off (Save $5.00-$25.00)