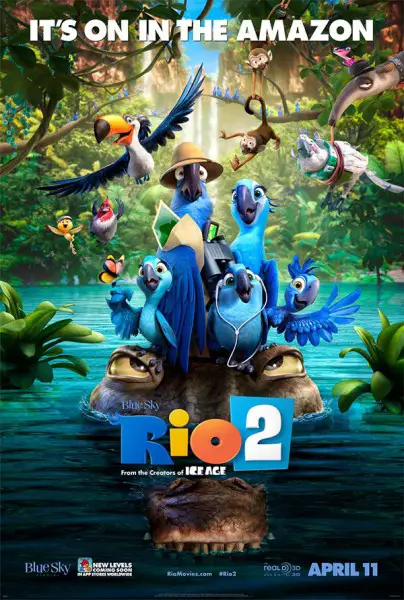 Do the kids keep asking you for Rio 2 on disc? You might surprise them for July 4th with an early digital purchase of the film. While the title will release to Blu-ray and DVD on July 15, you can already purchase the digital HD format of the film for about $14.99. In most cases the HD and SD versions are selling for the same amount, although some digital vendors charge $1 more for a high-definition copy.
You can download 20th Century Fox's Rio 2 in Digital HD format from iTunes, Amazon Instant Video, Cinema Now, Google Play, Target Ticket, and Vudu, as well as On Demand from Verizon FiOS. You can also purchase via PlayStation or Xbox through Sony Entertainment or Xbox Video, respectively.
Some digital purchases are linked to an UltraViolet license, so you can build upon your existing library of digital movies. UV-supporting online digital services include Target, Walmart's Vudu, and Best Buy's Cinema Now.
'Rio 2' Digital HD and On Demand Price Comparison
Apple iTunes (HD) $14.99
Amazon Instant Video (HD) $14.99
Best Buy Cinema Now (HD) $16
Google Play NA*
Target Ticket (HD) $14.99
Vudu (HD or HDX) $14.99
Verizon FiOS On Demand (HD) $15.99
Xfinity On Demand (HD) $17.99
Sony Entertainment Network (HD) $14.99
Xbox Video (HD) $14.99
*Not available at the time of this article.