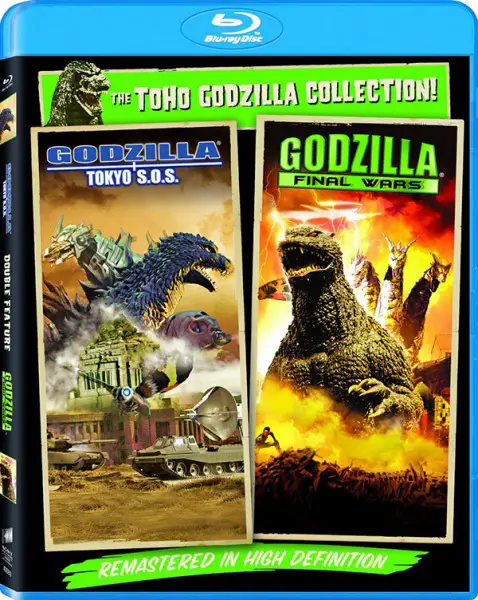 This is one of those weeks that's missing a blockbuster title to lead the Blu-ray Disc and DVD releases, but riding on the hype of the upcoming Godzilla movie are almost a dozen re-issues from Sony Pictures Home Entertainment and Section 23. In total, we counted eleven classic Godzilla films that have been digitally remastered for Blu-ray, some of the titles issued in new two packs from Sony like the double feature Godzilla Vs. King Ghidorah and Godzilla Vs. Mothra.
There are also several Alfred Hitchcock films released to single-disc Blu-ray editions this week that include Digital HD copies via UltraViolet; The Birds (1963), Psycho (1960), Rear Window (1954) and Vertigo (1958) also include bonus features such as commentaries, featurettes and documentaries.
Universal Studios has released several new titles to the Steelbook format including Jurassic Park, The Blues Brothers, King Kong, The Bourne Identity, The Bourne Supremacy, The Bourne Ultimatum, and The Fast and the Furious.
Other Blu-ray releases this week include The Veronica Mars Movie, Little House on the Prairie: Season 2, Revenge of the Nerds, and Bachelor Party.
Godzilla on Blu-ray this week:
Sony Pictures Home Entertainment
Godzilla Vs. King Ghidorah / Godzilla Vs. Mothra (1992)
Godzilla Vs. Mechagodzilla II / Godzilla Vs. Spacegodzilla
Godzilla: Final Wars / Godzilla: Tokyo S.O.S.
Godzilla Vs. Destoroyah / Godzilla Vs. Megaguirus: The G Annihilation Strategy
Section 23
Godzilla Vs. Hedorah (1971)

Ebirah Horror of the Deep (1966)

Godzilla Vs. Gigan (1972)
Other Blu-ray releases this week
Little House on the Prairie: Season 2

The Veronica Mars Movie

Revenge of the Nerds (1984)

Bachelor Party (1984)

Memphis Belle

The Terminal

Blazing Saddles: 40th Anniversary

Generation War

Amistad (1997)

The Art of the Steal

Ace in the Hole (Criterion Collection) (1951)

Big Red One

The Bridges of Madison County

Countess Dracula (1971)

The Women (1939)

Harvey (1950)

The Birds [Blu-ray + DIGITAL HD with UltraViolet] (1963)

Vertigo [Blu-ray + DIGITAL HD with UltraViolet] (1958)

Psycho (1960) (Blu-ray + DIGITAL HD with UltraViolet)

Rear Window [Blu-ray + DIGITAL HD with UltraViolet] (1954)

Speed 2: Cruise Control (1997)

Weekend at Bernie's (1989)

Honeymooners: Classic 39 Episodes

Speed / Speed 2

I Love Lucy: Ultimate Season One

Jurassic Park (Steelbook) (Blu-ray + DVD + DIGITAL with UltraViolet)

The Blues Brothers (Steelbook) (Blu-ray + DVD + DIGITAL with UltraViolet)

The Bourne Identity (Steelbook) (Blu-ray + DVD + DIGITAL with UltraViolet)

The Bourne Supremacy (Steelbook) (Blu-ray + DVD + DIGITAL with UltraViolet)

The Bourne Ultimatum (Steelbook) (Blu-ray + DVD + DIGITAL with UltraViolet)

The Fast and the Furious (Steelbook) (Blu-ray + DVD + DIGITAL with UltraViolet)

King Kong (Steelbook) (Blu-ray + DVD + DIGITAL with UltraViolet)

Wanted (Steelbook) (Blu-ray + DVD + DIGITAL with UltraViolet)

John Wayne Film Collection

Andy Griffith Show: Complete First Season