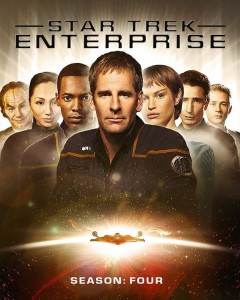 This week is strange mix of TV shows, films newly released to Blu-ray Disc. The biggest franchise title comes from the Star Trek: Enterprise television series, which has released the fourth and final season of the show. The six-disc Blu-ray boxed set from Paramount includes all 22 episodes of 'Enterprise,' along with bonus material on each disc including deleted scenes, extended scenes, archival mission logs, and audio commentaries.
Also new to Blu-ray Disc this week are Masterpiece: Mr. Selfridge Season 2, Legend of Hercules, Space Battleship Yamato, Gamera: Ultimate Collection Volumes 1 and 2 (in separate editions), and the Amazon exclusives Notes on a Scandal and The Rodgers & Hammerstein Collection.
Criterion Collection has digitally remastered both Il Sorpasso (1962) and Sophie's Choice (1982) for release to high-def Blu-ray Disc. And, there are several concerts to check out including Tchaikovsky: Juliet & Romeo, Minkus: Don Quixote, and Toto's 35th Anniversary Tour Live from Poland.
New on Blu-ray Disc, April 29, 2014
TV Shows
Star Trek: Enterprise – Complete Fourth Season

Star Trek: Enterprise – The Complete Series

Masterpiece: Mr. Selfridge Season 2

Jim Gaffigan: Obsessed
Films
Legend of Hercules

Space Battleship Yamato: Movie

Chaplin

The Wind And The Lion

Gamera: Ultimate Collection V1

Gamera: Ultimate Collection V2

Devil's Due

Il Sorpasso (Criterion Collection)

Sophie's Choice (Collector's Edition)

Gimme Shelter

Betty Boop: Essential Collection 3
Amazon Exclusives
The Rodgers & Hammerstein Collection (Amazon Exclusive)

Notes on a Scandal (Amazon Exclusive)
Music Performances
35th Anniversary Tour Live from Poland (Toto)

Minkus: Don Quixote

Puccini: Turandot

Puccini: Madama Butterfly

Strauss: Salome

Delibes: Coppélia

Max Raabe & Palast Orchester

Bruckner: Symphony No. 7 in E Major

Mozart: Europakonzert 1991 from Prague

Europakonzert 1995 from Florence

Tchaikovsky: Juliet & Romeo

Simon Rattle conducts The Berliner Philharmoniker