It may be cliché to bash the cable company, but sometimes cliché is right. As you've heard, Comcast, the largest cable company and home Internet service provider in the United States, has announced it intends to swallow up its next closest competitor, Time Warner Cable, like Jabba the Hutt downing a frog.
On the surface, it seems like yet another reason to cut the cord, ditch Comcast, and just go with Netflix. But wait… you can't cut the cord because Comcast is holding it at the other end. You want Netflix? You need Internet. You want Internet? You need Comcast. If the Time Warner merger goes through, the company would likely become the largest broadband service provider in the world, excluding maybe China. That news by itself is certainly distressing; it makes an industry that's already not very competitive even less so.
But not only is Comcast closing in on Monopoly territory (the company also owns a 51% majority stake in the massive media conglomerate NBCUniversal), it's also failing miserably at providing quality service to its customers that use Netflix. Whether Comcast is intentionally throttling the data speeds of Netflix or not (some say it's actually Netflix behind the poor service), it's a fact that Comcast currently offers just about the worst way to use your Netflix streaming account.
There's been a ton of anecdotal evidence supporting this recently, and yes, your humble author is here to offer more of that evidence. The problems started recently; my HD programming was failing to even sniff 720p, so I upgraded to a new modem, one that's been fully tested, supported, and approved by Comcast. On top of that, I also invested in a new high end router. But nope. If it's The Cleveland Show in 1080p, it's The Cleveland Show in 480p in my house. Even an episode of Family Ties, which only promises a 480p resolution, staggers between 240 and 384. And yes, I watch Family Ties, but let's not ridicule my viewing habits here, we've got bigger fish to fry. Point is, prime time video quality has been atrocious.
And before you chalk this up to being the rant of one disgruntled writer, check out Netflix' ISP rankings for January.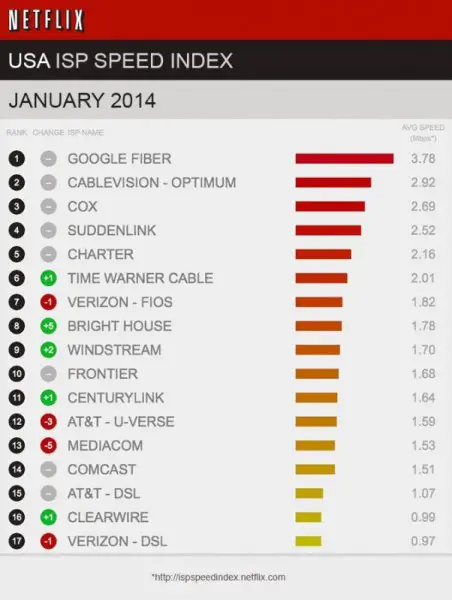 That's right. Out of the 17 companies ranked, Comcast finished 14th. Looking for a way to get the most out of your Netflix subscription? Wanna sample their new 3D offerings? First try Google Fiber, Cablevision – Optimum, Cox, Suddenlink, Charter, Time Warner Cable (about to be Comcast!), Verizon – FIOS, Bright House, Windstream, Frontier, AT&T – U-Verse, and Mediacom. Then, if that doesn't work out for ya, OK, sure, you can give Comcast a shot. And wait, you didn't just utter "4K" did you? Stop it.
So, um, yeah… what're your thoughts on the proposed merger?