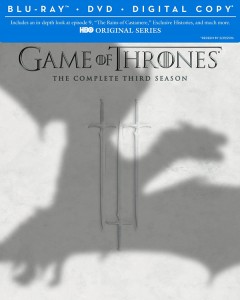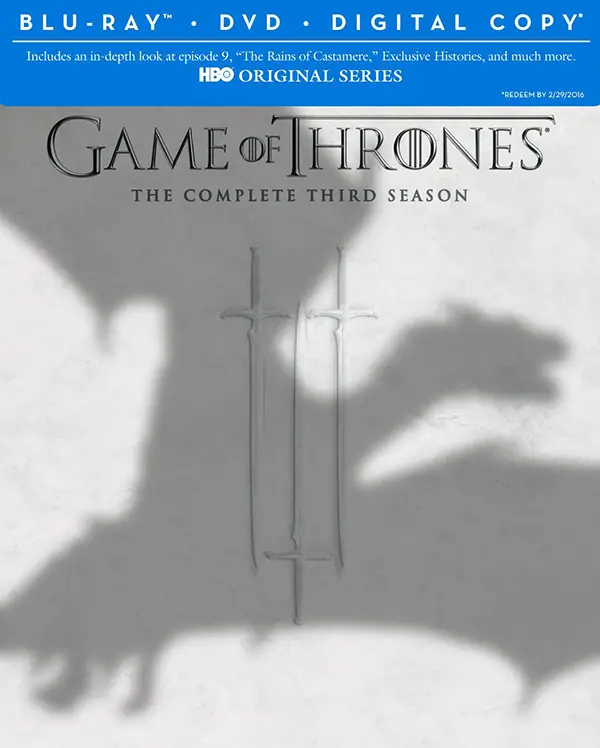 There's no doubt Game of Thrones: The Complete Third Season leads new Blu-ray Disc releases this week. The 7-disc set from HBO Studios packs loads of extras including five deleted and extended scenes, in-episode guide, histories and lore resources, audio commentaries, production clips with cast and crew, and other featurettes. In addition to all episodes from Season 3 on Blu-ray, the 7-disc edition also includes DVD and Digital Copies of the season, giving you plenty of viewing formats to choose from. The Digital copies are downloadable via Apple iTunes and UltraViolet, compatible with PCs, Macs, and iPads among other mobile devices.
Game of Thrones: The Complete Third Season on Blu-ray presents video in 1080p resolution at 1.78:1 widescreen aspect ratio, with English DTS-HD Master Audio 5.1 among the five available languages. Total run-time of the 7-disc edition is 9 hours and 21 minutes. An Amazon exclusive Limited Edition of Game of Thrones Season 3 also ships today. The uniquely packaged edition features one of Daenerys' dragons wrapped around a stone with Dracarys etched in the back.
Other Blu-ray Disc releases this week include Dragon Ball Z: Season 2, Darkman (Collector's Edition), Beware the Batman: Shadows of Gotham Season 1 Part 1, Nurse Jackie: Season 5, and From Broadway With Love: A Benefit Concert For Sandy Hook.
Here's a link to all new Blu-ray Disc releases available at Amazon.
New on Blu-ray Disc, Feb. 18, 2014
Game of Thrones: The Complete Third Season
Dragon Ball Z: Season 2
Darkman (Collector's Edition)
Beware the Batman: Shadows of Gotham Season 1 Part 1
Nurse Jackie: Season 5
Bad Dreams / Visiting Hours
Naruto Shippuden the Movie: Blood Prison
From Broadway With Love: A Benefit Concert For Sandy Hook